Holland's botanical history
Holland's mild climate and proximity to the sea offers ideal conditions for growing plants. The country that has long been recognized for its iconic tulips attracted the interest of gardeners, botanists and collectors as far back as the 16th century. During the roaring trade of the Dutch Golden Age, ships returned to Holland with exotic specimens from the colonies, to the delight of early botanical institutes such as Hortus Botanicus Amsterdam and Hortus Botanicus Leiden.
This flourishing economy also meant that merchants had the means to build extravagant homes, often escaping to the countryside in summertime. These houses were accompanied by grand outdoor spaces, perfectly-manicured gardens and collections of rare plants. Enthusiastic land owners worked closely with landscape architects to put their own creative stamp on their properties. Early examples of these gardens included Huygens' Hofwijck, a mansion owned by politician Constantijn Huygens in Voorburg (near The Hague), while Amsterdam mayor Pieter Rendorp shaped his own Château Marquette in Heemskerk. It was also an era during which many gardens were opened to the public, such as those at Oud Amelisweerd and Landgoed Singraven, where Dutch Golden Age artist Jacob van Ruysdael famously painted its watermill around 1650.
The development of Dutch landscaping
Dutch landscape architects often took much inspiration from abroad and were originally influenced by the precise geometry of French gardens. After 1750, however, fashions loosened up, moving more towards the overgrown feel of traditional English gardens and Romanticism. Elements of these eras can be seen in the garden of Slot Zuylen Castle, where the immaculate hedges contrast with English country style elements, and a unique snaking wall that provides shelter for tropical fruit trees. Similarly, the grounds at Castle Duivenvoorde were redeveloped by landscape architect Jan David Zocher jr. between 1841 and 1849, bridging French and English trends by including winding paths, fountains and bridges. The garden has recently been renovated to bring back more of Zocher's original design elements, such as groupings of trees and water features. Zocher was actually responsible for transforming several gardens and parks into coherent ensembles, such as the gardens of Soestdijk Palace and Groeneveld Castle.
Today, look out for the name Michael van Gessel. This modern-day Dutch landscape architect is internationally reknowned for his approach to creating quietness and space. Explore his work at Landgoed Twickel, De Haar Castle, Castle Keukenhof or Palace Het Loo, to name just a few.

Watch this video: Holland's castle gardens
Notable gardens and interesting features
Some of the most exquisite gardens in Holland surround Palace Het Loo in the province of Gelderland. The castle dates from 1685, when it was built for Stadtholder Willem III and Mary Stuart, who was an avid collector of rare and beautiful plants. The gardens have since been restored to how they looked during this time, including replicas of the Delft Blue vases that held the most precious orange trees and pineapple plants. The famous French architect Daniël Marot was the founder of the palace's gardens. He also designed the shell galleries and the so called 'bedriegertjes' (hidden fountains in the ground) in the park of Rosendael Castle.
More unexpected treasures can be found in the gardens of Castle Sypesteyn in Utrecht. Hedges, topiaries and elaborate wrought iron gates are placed throughout the garden, where you'll find many exotic trees and even a maze. De Haar Castle also delights visitors with its Roman gardens, rose gardens and decorative ponds that were revived during its redesign by architect Pierre Cuypers, the name behind the Rijksmuseum and Central Station in Amsterdam. Another interesting Dutch garden is situated near Warmelo Castle, where in the 20th century, architect Hugo Poortman fullty restored its impressive 18th-century gardens.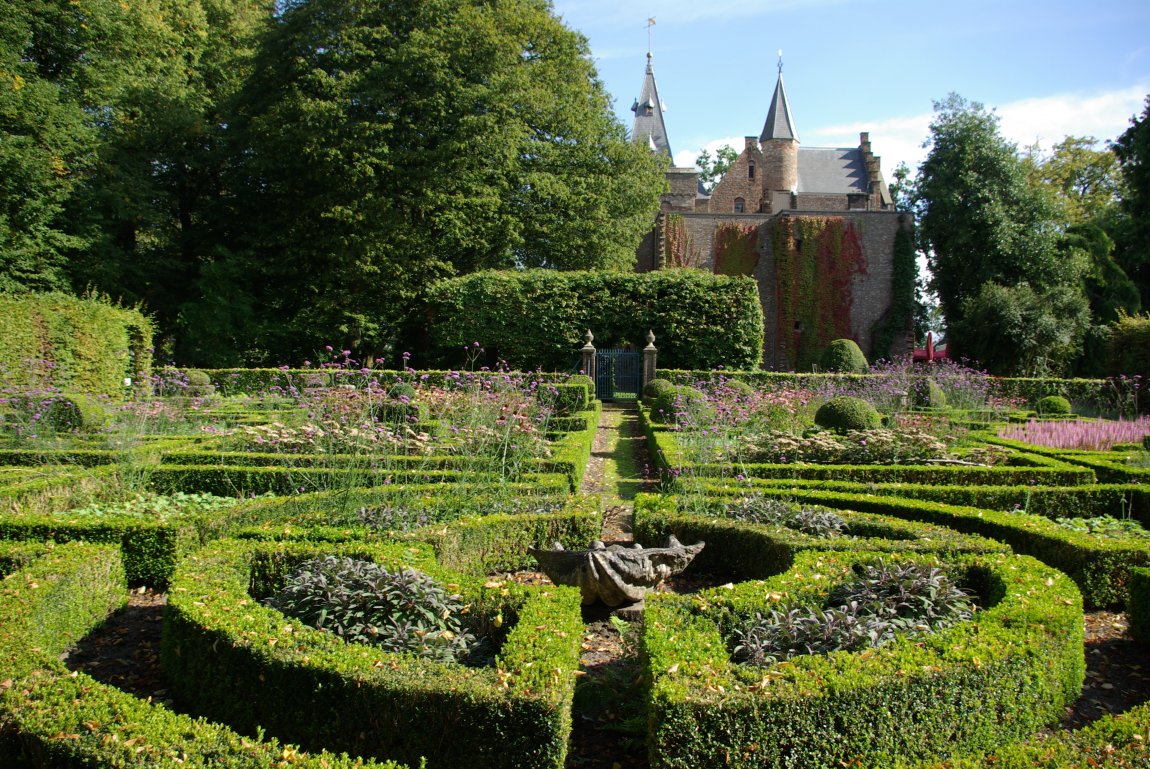 Many of the gardens, including those at Castle Bergh, Amerongen Castle and Castle Verwolde are home to oak and conifer trees that date back several centuries, giving visitors a true sense of history. Landgoed Twickel even hosts one of Holland's 25 official botanical gardens. German landscape architect Eduard Petzold took care of its gardens – as he did in Huis Middachten and Amerongen Castle.
Once you've explored the gardens, step into the stately castles of Holland's wealthy elite. Book your ticket to one of Holland's famous castle attractions, such as Amsterdam Muiderslot or Palace Het Loo.
We recommend
If you've ever wondered what it's like to wake up to the expansive views of a castle garden, go for the full fairy tale experience and spend a night in a castle.