Kasteel Ammersoyen
91 Views
In het Nederlandse rivierenland van de Maas en de Waal in Gelderland staat een indrukwekkende middeleeuwse verschijning: Kasteel Ammersoyen. Het kasteel is beschermd met wel twee slotgrachten. Wie de grachten is overgestoken en de kasteelpoorten heeft bereikt, stapt in de middeleeuwen. In het historische interieur komen de middeleeuwen weer tot leven.
Reis terug naar de middeleeuwen tijdens een bezoek aan dit kasteel uit omstreeks 1300.
De archeologische vondsten geven een beeld van het leven in die tijd.
Ontdek de vele hallen en kamers die verscholen liggen tussen de dikke muren van het kasteel.
Archeologische pareltjes in Kasteel Ammersoyen
Kasteel Ammersoyen werd gebouwd rond het jaar 1300, naar het voorbeeld van een door graaf Floris V geïntroduceerd kasteeltype. Het is een van de best bewaarde waterburchten van Nederland. Het bijzondere aan Ammersoyen is dat de torens buiten het centrale gebouw zijn gebouwd. Dat maakte het kasteel beter te verdedigen.

In Ammersoyen vindt u meerdere eeuwen aan geschiedenis. Tijdens een restauratie in de vorige eeuw werd de gracht uitgegraven. Toen kwam er een schat aan archeologische vondsten tevoorschijn, waaronder voorwerpen van aardewerk, glas, zilver, tin en brons. Een deel van deze collectie staat nu tentoongesteld in het kasteel en geeft een indrukwekkend beeld van 600 jaar geschiedenis.
Veel te zien en doen
U kunt ronddwalen in de vele ruimtes en onder meer de torenkamers, de middeleeuwse ridderzaal en het vrouwenverblijf bezoeken. Er worden ook rondleidingen georganiseerd. Voor kinderen is er van alles te zien en ontdekken, zoals de schatkisten en vele spannende luikjes en trappen. Ook kunnen ze onderdelen van een harnas uitproberen en leuke (en leerzame!) spelletjes spelen.
Kastelen in Nederland
Het Nederlandse landschap kenmerkt zich door de vele kastelen en hun torens. Vooral de provincie Gelderland is rijk aan historische kastelen en biedt bezoekers volop mogelijkheden om terug te reizen naar lang vervlogen eeuwen.
Openingstijden
Het kasteel is van april tot en met oktober te bezoeken van dinsdag tot en met zondag (11.00 - 17.00 uur). Van november tot en met maart is het open op zondag (11.00 - 17.00 uur). Het kasteel is voor groepen het hele jaar open - op aanvraag. Rondleidingen zijn beschikbaar.

Entreeprijzen: volwassenen € 9,50; kinderen € 5,25
Tip van de redactie
Mis de lokale streekproducten van Gelderland niet, die u kunt proeven en kopen. Probeer de uitstekende vleesgerechten of pluk uw eigen fruit.
Meer informatie vindt u hier.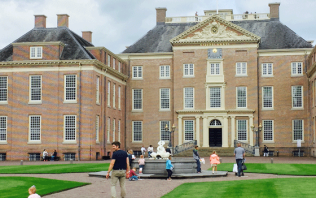 Come face to face with history and grandeur in Holland's castles and country houses.
Read more
More in this region
Shows and demonstrations with sea lions, walruses and of course dolphins.

Read more

Van Gogh and a sculpture garden in a national park.

Read more

The Airborne Museum in Oosterbeek is dedicated to "Operation Market Garden."

Read more

A majestic palace with fantastic gardens.

Read more

The oldest National Park of the Netherlands has been attracting nature lovers since 1931. Will you also come and admire the nature and the estates?

Read more

Historic Hanseatic town on IJsselmeer lake with many monuments and excellent restaurants.

Read more

Discover the rich nature and culture of the Veluwe.

Read more