Explore the Dutch Design district
Explore the Dutch Design district
1,094 Views
Explore the Dutch Design district
Step into beautiful North Brabant and experience Dutch Design through exhibitions, events and tours. Step into beautiful North Brabant and experience Dutch Design through exhibitions, events and tours. Step into beautiful North Brabant and experience Dutch Design through exhibitions, events and tours.
Read more
Welcome to North Brabant: the Dutch Design district and birthplace of Vincent van Gogh and Hieronymus Bosch. The industrious city of Eindhoven is the epicentre of the Dutch Design scene, home to Design Academy Eindhoven and the illustrious Dutch Design Week every autumn. Be sure to also visit neighbouring cities like Tilburg, Den Bosch and Breda to discover a wealth of design-inspired museums and icons. All in, it's the perfect region in which to encounter pioneers like Gerrit Rietveld, meet the stars of contemporary Dutch Design, such as Piet Hein Eek and Maarten Baas, and uncover the stars of tomorrow during Dutch Design Week.
In 2017 this region celebrates 100 years of the De Stijl art movement, tracing its roots through to today's Dutch Design with a host of special exhibitions and activities. You can also pay a visit to Rietveld's Ploegfabriek, a former textile factory inspired by De Stijl's principles.
Dutch Design Week runs from 21 to 29 October 2017.
Take a peek inside Piet Hein Eek's design studio in Eindhoven, open all year.
The Ploegfabriek, a spectacular textile factory designed by Gerrit Rietveld, opens to the public in April 2017.
Discover the Dutch Design district: from Gerrit Rietveld to Dutch Design Week
The beautiful province of North Brabant has long been responsible for some of Holland's most important artists and designers. The key cities of Eindhoven, Den Bosch, Breda, Tilburg and Helmond are recognised as hubs of Dutch Design and artistic innovation. Designers from here have become masters of functional, solution-oriented concepts that reflect the culture and attitude of the Dutch. In 2017 Brabant celebrates the achievements of Dutch Design with a full calendar of special events, illuminating exhibitions, exclusive guided tours and design routes. Visit icons of De Stijl, get to know the work of leading Dutch designers like Piet Hein Eek and Maarten Baas, meet the design stars of tomorrow, or try your own hand at design during ceramic and textile workshops.
Established in 1947, the world-renowned Design Academy Eindhoven has cemented the industrious city of Eindhoven as the beating heart of Dutch Design. Its alumni have gone on to some of Holland's best-known design brands (think Piet Hein Eek, Moooi, Droog Design), and each year its graduating students dazzle with new ideas. The perfect chance to experience this first hand is during Dutch Design Week, an annual design showcase that takes place across some 100 locations in Eindhoven.
For a truly special experience, visit Gerrit Rietveld's iconic textile factory the Ploegfabriek. Situated in the town of Bergeijk, it was the only industrial space designed by Gerrit Reitveld, while acclaimed landscape architect Mien Ruys was responsible for its surrounding park. The Ploegfabriek reopens to the public especially for the Mondrian to Dutch Design celebrations in 2017. Join an official Rietveld safari tour or simply stroll through the magnificent grounds. You can even take a look at the bungalow Rietveld designed for the Van Daalen family (and its authentic Spectrum Showroom), follow the cycling trails or enjoy a game of mini golf with the kids.
Dutch Design exhibitions in 2017
All aspects of Dutch Design can be experienced throughout North Brabant in 2017. Among the highlights is the 'Going Soft' exhibition at the TextielMuseum Tilburg, which runs from 3 December 2016 until 7 May 2017. This features a specially commissioned three-dimensional textile sculpture by artistic duo Heringa/Van Kalsbeek. Another exceptional exhibition is 'Working For a Better World' at the Gemeentemuseum Helmond, to see from 21 March until 3 September 2017. Here you can encounter diverse works by renowned De Stijl artists Peter Alma, Bart van der Leck, Lou Loeber and Johan van Hell tackling the subject of workers' rights and wages.
Take a City Design tour
Explore 10 hidden design delights that make the Dutch Design district so unique. This guided tour also offers insider tips and insights about the history of the North Brabant region.
Don't miss Dutch Design Week
Dutch Design Week is a grand celebration of art, design and innovation, taking place in Eindhoven every October. It showcases some 2,500 talents across 100 locations and unsurprisingly it attracts thousands of visitors from around the world. Discover what the future of design holds, meet the new stars of Dutch Design, pick the perfect Design Route through Eindhoven, and don't miss the famous Graduation Show by students from the Design Academy Eindhoven.
Getting around
From Eindhoven, it's approximately a two-hour journey to Drachten, in the northern province of Friesland.
A trip to Den Haag or Leiden can be made by road or rail in 1.5 to 2 hours.
Stay in Eindhoven
Make the most of the Dutch Design district by staying in the beautiful Inntel Hotels Art Eindhoven, partly housed in the monumental Philips Light Tower in the heart of the city.
We recommend
Take inspiration from Van Gogh. No trip to Eindhoven is complete without cycling the Van Gogh-Roosegaarde cycle path. After dark, this sparkling path is lit by thousands of twinkling pebbles, inspired by his 'Starry Night'.  
Celebrate 100 years of De Stijl in The Hague & Leiden, the international home of De Stijl. Don't miss 300 works by Mondrian at the Gemeentemuseum Den Haag.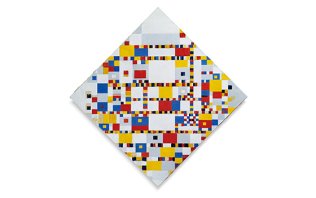 'Celebrate 100 years of De Stijl in 2017, from Mondrian to Dutch Design. Dutch artist Theo van Doesburg founded the De Stijl art movement in 1917.'
Read more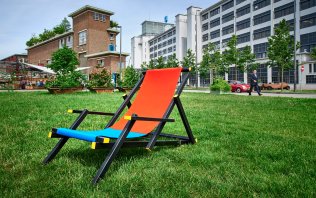 Do you like this theme? You might also like: