Vincents Tekenlokaal in Tilburg
Vincents Tekenlokaal in Tilburg
553 Views
Vincents Tekenlokaal is located at the actual site where Vincent van Gogh had his first drawing classes as a thirteen year old boy: a historic location in which the past and the present come together.
Visit Vincents Tekenlokaal and discover where he had his first drawing lessons.
Read more about his teacher Constant Huijsmans.
Make your own drawings in the super modern digital drawing classroom.
In 1866, as a thirteen year old boy, Vincent van Gogh comes to Tilburg to attend secondary school at the Rijks-HBS. This is where he had his first drawing lessons from Constant Huijsmans, a well-known draughtsman at the time, and discovered his passion for drawing and painting. It is said that Constant Huijsmans' lessons had a huge, permanent impact on Vincent Van Gogh's style.
Reconstruction in a unique location
Vincent's school, the Rijks-HBS, was located in the former palace of King William II on the central square in Tilburg; today, the building serves as Tilburg's city hall. The beautiful building's basement contains a reconstruction of the space in which Van Gogh is said to have attended classes.
Digital drawing class
Present and past meet in Vincents Tekenlokaal, 'the greatest drawing classroom in Holland'. Not only can you experience how Vincent was taught at the time, but you can also make your own digital drawings in a super modern digital drawing classroom. Artists and illustrators are regularly present to help visitors, so it's a lot of fun for both parents and children!
Editor's pick
From Vincent's Drawing Room, an inspiring cycling route leads through the area in which Vincent went to school.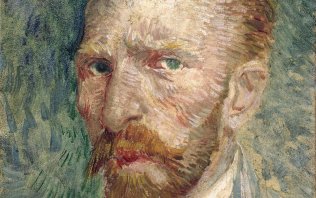 Visit the most beautiful Van Gogh locations and learn everything there is to learn about the life and works of one of the most famous artists of all time.
Read more
Do you like this theme? You might also like: