The OV-chipkaart
To use public transport in the Netherlands you need an OV-chipkaart: a small card that looks like a credit card that can be used to travel by bus, train, metro, OV-fiets (public transport bike) and even ferry. The chipkaart is therefore an efficient solution to traveling with numerous paper tickets – a traveler only needs one card to get around instead of dozens of tickets from various different transport companies.
The card can be fully personalized, but it's not a requirement. Since there is no separate OV-chipkaart for tourists, visitors to our country are advised to use a single-use chip card or an 'anonymous OV-chipkaart'.
Single-use chip card
The single-use chip card can be used for a short period of time with a limited period of validity for travel by bus, tram or metro in a city and is mainly intended for single journeys. For example, you buy a separate single-use chip card for the train that is only valid for one specific journey.
If you then go elsewhere, you will need a new single-use chip card. No really practical, is it? A train journey in the Netherlands with a single-use chip card is also always one euro more expensive than when you use an anonymous OV-chipkaart.
Anonymous OV-chipkaart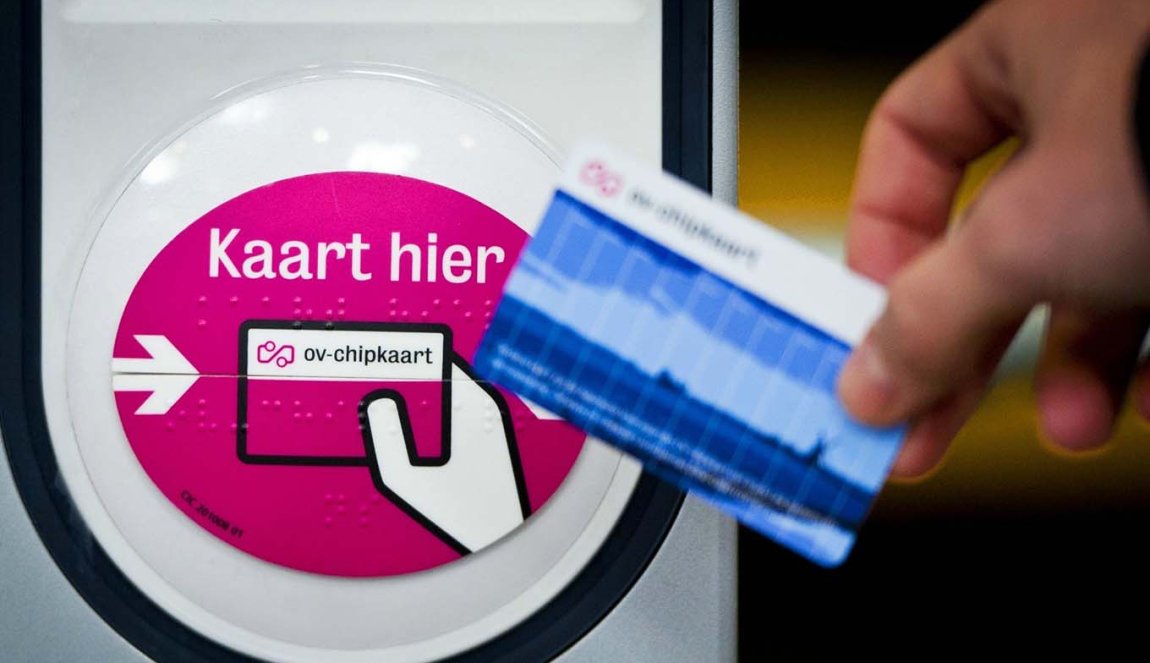 An anonymous OV-chipkaart costs a few euros and will not initially have any credit loaded on it. You have to top-up the card at a service counter or a vending machine at one of the many stations. The payment options differ per machine, but you can usually pay with your debit card, credit card or telephone. Some machines still support cash, but not many. Once loaded, you can use the OV-chipkaart immediately.
Important tip: if you want to travel by train, there must be at least €20 on the chipkaart.
OVPay: use your smartphone, debit card, or wearable to pay for public transport
The Netherlands is currently busy rolling out a new payment system to make it even easier to travel by public transport. OVPay makes it possible to check in and out on the train, tram, bus, metro, or even ferry using your smartphone, debit card, or credit card.
OVPay provides a direct connection between your ride and your payment account. It works just like cashless payments in the supermarket, with the important difference being that you also have to check out to calculate the proper fare.
This is probably the most convenient solution if you're on vacation because you do not need a separate card and are not tied to an unnecessary subscription.
Please note: OVPay is currently still under development. It is expected that all check-in posts will be adapted to this new technology by mid-2023. Keep an eye on ovpay.nl for the latest updates.
Check in and check out: how the chip card works
So how exactly does checking in work? When boarding the bus, tram, metro or train hold the OV-chipkaart (or your debit card, smartphone, or wearable if using OVPay) in front of the screen of a post or gate. It will indicate with a green light and a beep that the anonymous OV-chipkaart has been read. You check out in the same way when exiting. On the display you can immediately see how much credit the trip has cost and how much you have left.
At smaller stations, the gate is on the platform and larger stations often have separate gates (which open when you check in). Important: you cannot check in once you are on the train. So don't forget!
An anonymous OV-chipkaart is valid for a maximum of five years. The end date is usually printed on the outside of the card. The credit remains valid, so if you want to use your OV-chipkaart again at a later stage, you can. You can also request a refund for the remaining balance.
Finally: you cannot block an anonymous chipkaart in the event of loss or theft. Therefore, never put too much money on it. Once it's gone, it's gone!
© Dutchmen Photography via Shutterstock

© NS

© NS