Amsterdam Light Festival
-
13,357 Views
During the Amsterdam Light Festival, which is held in December and early January, the canals of Amsterdam are lit up by the best light artists from Holland and abroad. You can enjoy the best works and art installations in Amsterdam's inner city for weeks.
Beautiful light festival in Amsterdam for seven weeks.
To be seen on foot and by boat.
Buy your discount tickets ahead of time.
The light installations can be seen on foot or by boat. The best time is at the end of the day, when dusk falls. The lights are at their best in the dark.
Illuminade walking itinerary
The Illuminade walking itinerary leads past over 20 light installations every year. The exhibition shows off the masterpieces created especially for the festival by international top artists. Examples are brightly colored projections on historical architecture, dynamic light installations in city parks, and works that you can literally walk through.
Water Colors boat tour
The Water Colors boat tour introduces you to Amsterdam in a unique way. Board one of the tour boats embellished with lights and sail through the famous 17th century canals to see the beautiful Water Colors exhibition. The latest light innovations make you look at the historical heritage of the city in an entirely new way. Sail through the Herengracht and Oosterdok to the Amstel and experience Amsterdam like never before. The Water Color cruise is a perfect way to (re-)experience the city!
Tickets Amsterdam Light Festival
Avoid queues and book your tickets for the Amsterdam Light Festival online. Combine your boat tour with a visit to one of the museums in Amsterdam, for instance, to enjoy the city to the fullest.
The starting point of the Amsterdam Light Festival is across the square from Amsterdam Central Station.
Nearby
The Amsterdam Light Festival is held in the center of Amsterdam, on the canals in the inner city and the Amstel river. Near the starting point of the Amsterdam Light Festival boat tour, you will find Madame Tussaud's, the Royal Palace on the Dam, Museum ons' Lieve Heer op Solder, and countless opportunities for shopping.
Hotels for the Amsterdam Light Festival
The Amsterdam Light Festival is held throughout the center of Amsterdam. If you want to spend the night within walking distance of the festival, book a hotel in the center of Amsterdam.
Editors' tip: Don't forget your camera! The art installations make for perfect shots!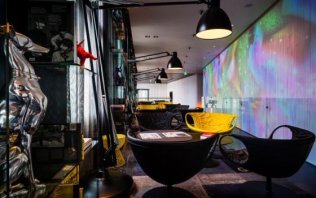 The art'otel amsterdam is a hotel where design and relaxation meet.

Amsterdam, Noord-Holland
Check availability
Upcoming events
22 Sep

29 Sep

Until 30 Sep

2 Oct
Search for an event
More in this region
The largest flower auction in the world.

Read more

Hip beach cafes and Ibiza-like surroundings are to be found in Bloemendaal

Read more

After a visit to Zuid-Kennemerland you will understand why people have wanted to live in this area for many centuries.

Read more

Discover what Schiphol Airport has to offer travellers.

Read more

The Cobra Museum in Amstelveen ensures that the avant-garde art movement CoBrA is kept alive.

Read more

Discover the best hotels near Amsterdam Airport Schiphol here.

Read more