William The Silent Is Here!
William The Silent Is Here!
-
471 Views
The Eighty Years War started exactly 450 years ago. William of Orange flees to Delft with its strong city walls to lead the revolt against the Spaniards. He was based in the Prinsenhof, which today is Museum Prinsenhof.
Discover an important period from Dutch history.
See the family portraits, which have been brought back together for the first time.
Participate in one of the activities related to the exhibition.
William of Orange
Museum Prinsenhof is closely intertwined with the life of William of Orange. This is where he lived and worked during the Spanish occupation. The most tangible evidence from this part of history are the famous bullet holes in the wall that were left after Balthasar Gerards shot William of Orange to death on 10 July 1584.

In the exhibition William The Silent Is Here!, visitors follow in the footsteps of the man who stood at the cradle of Holland as we know it today. Travel back in time and discover where he lived, worked, and took important decisions.
Showpieces
Museum Prinsenhof received a number of portraits from several collections on loan. One of the showpieces is the portrait of Louise Juliana, one of William of Orange's daughters and the mother of Frederick V of the Palatinate, nicknamed the Winter King. For the first time in a long time, Louise Juliana is reunited with her mother Charlotte of Bourbon, third spouse of William of Orange. All this brought together in the place where Louise was born and both ladies resided for a time.
The paintings are part of a series of family portraits painted by Daniël van den Queborn, which ended up in different collections.
Special: William The Silent is here!
During this exhibition at Museum Prinsenhof Delft, you will discover the beginning and end of this major figure in Dutch history.
View more on MuseumTV.
Royal storyline - The House of Orange Nassau
The rich history of the House of Orange-Nassau has left its traces in various places in Holland, not just in Delft. Famous and less well known royal sites have been brought together in our Royal Storyline. It helps you discover more about the founders of Holland.
Editor's pick: Combine a visit to Museum Prinsenhof with the Royal Delft Experience at the Koninklijke Porceleyne Fles. Here, you will learn all about traditional Delft Blue pottery.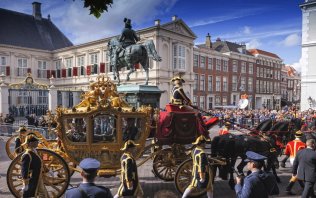 Read all about the House of Orange-Nassau.
Read more
Find out what's nearby
Address:
Sint Agathaplein 1
2611HR Delft
Visit the website
Do you like this theme? You might also like: