Keukenhof
-
220,037 Views
Will you be visiting Holland in spring? Then be sure to visit Keukenhof, where you will experience the gorgeous views of blooming Dutch tulips and other flowers for which Holland is famous. Keukenhof is the most famous and largest flower park in the world and lies not far from Amsterdam.
Visit the most beautiful spring park in the world.
Admire more than 7 million flowers in bloom at Keukenhof.
Keukenhof can be reached within half an hour from The Hague, Haarlem, Leiden and Amsterdam.
7 million flower bulbs
Tulips from Holland are world famous. If you want to see the Dutch tulip fields in bloom, you should visit Holland in April and May. This is the same period in which the biggest flower park in the world, Keukenhof, opens its doors.
Keukenhof is a park where more than 7 million flower bulbs are planted every year. Gardens and four pavilions show a fantastic collection of: tulips, hyacinths, daffodils, orchids, roses, carnations, irises, lilies and many other flowers. You will be overwhelmed by a spectacle of colors and perfumes.
Address and opening hours
Keukenhof lies in Lisse, between Amsterdam and The Hague, in the heart of the Bollenstreek (Bulb Region), and is easy to reach via the A4 (exit Nieuw-Vennep) and the A44 (exit 3 Lisse). Follow the 'Keukenhof' signs.
Keukenhof is also well accessible by public transport. Check out our combination tickets (transport and entrance) that allow you to get on in Amsterdam or Rotterdam/The Hague and off at Keukenhof. You will be able to enter through the quick desk, so you won't have to wait in line.

From 22 March to 13 May 2018 , the park is open every day from 08:00 to 19:30. The cash register closes at 18:00.


Tulips everywhere
At Keukenhof, you'd think you were adrift on a sea of flowers. Divided across various gardens and pavilions, the tulips and other flowers number in the millions. Keukenhof has a different theme each year, meaning that it is never the same. Unique in the world, this park attracts over a million visitors every year. Note that the tulips bloom only from mid-March to mid-May, meaning that the park is only open during this period.
Spend the night near Keukenhof
Would you like to stay in the gorgeous area around Keukenhof? You can! We have a broad range of great hotels and bed and breakfasts for you. Accommodations in Haarlem, Leiden or Amsterdam are also good options.
Editor's pick
If you want to have a really flowery day out, you should combine a visit to the Keukenhof with the Flower Parade in April.
Keukenhof tickets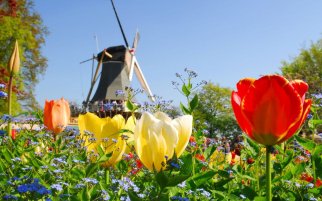 Direct and frequent travel from Amsterdam centre to Keukenhof gardens. Bypass the queues and visit Keukenhof at your own pace.
Buy your ticket
More in this region
Visit the Flower Bulb Region and discover the beautiful colorful fields and Keukenhof

Read more

Sensational rollercoasters and the best swimmingpool in Europe.

Read more

Get a taste for life as it was in the Dutch Golden Age at Keukenhof Castle and its gardens.

Read more

King Willem-Alexander and Queen Máxima live with their family in Villa Eikenhorst in Wassenaar.

Read more

A tree-lined avenue leads you to the stately Duivenvoorde Castle, where you can take a stroll in the surrounding park or visit the art collection.

Read more

Experience art, nature and architecture at this country estate and art museum near The Hague.

Read more

Alphen aan den Rijn is located in the middle of the Green Heart.

Read more
Do you like this theme? You might also like:
Visit the Noordoostpolder and admire tulip fields and the annual tulip festival.

Read more

Visit the Kop van Noord-Holland with the world's biggest single flower bulb field.

Read more

Visit the Flower Bulb Region and discover the beautiful colorful fields and Keukenhof

Read more

What is the best time to visit the tulip fields in Holland?

Read more

The Amsterdam Tulip Museum traces the history of the tulip.

Read more

Originally cultivated in the Ottoman Empire (Turkey) Tulips were imported into Holland in the sixteenth century.

Read more

When it's spring you should go to the countryside and let the striking colors of the Dutch bulb fields overwhelm you.

Read more

The largest flower auction in the world.

Read more

The oldest botanical garden in the Netherlands.

Read more

Brighten up your day by purchasing tulips or other blooms at Amsterdam's famous Flower Market.

Read more