Plan your cycling daytrip
Plan your cycling daytrip
3,456 Views
The cycle junction network allows you to plan your day trips in the area quickly and easily and takes you to the best places in Holland. Below you will find a description of how the junction system works.
Over 7600 bicycle junctions throughout Holland.
Easily plan and ride the best day trips.
Bicycle junctions link up perfectly with the National Bicycle Routes (LF routes in Dutch).
The cycle junction system is easy to use. You follow a specific route by following the signs from one numbered junction to the next numbered junction. There is an information sign with an overview map on every junction.
Choose your distance and route...
The system allows you to plan your own route. Use the online bicycle route planner or a map with junction numbers to determine where you want to start. Write down the numbers of the junctions you want to follow in the right order and you're good to go.
...and follow the junctions.
You will travel from junction to junction. There is a sign with the number on each junction, which also has a map so you'll always know where you are and where the other junctions are in relation to your current location. It is very clear and easy and you can always adjust your route if you want to. Please note that the routes between two junctions are always shown in two directions.
Go to the bicycle route planner.
Search for your holiday home
Check out our extensive offers.
2000 holiday homes throughout Holland.
On the coast, in a natural environment or near cities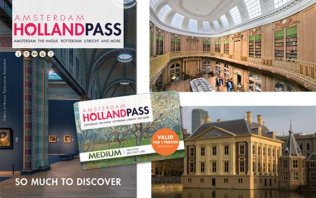 Receive free entrance and discounts to a wide range of museums, attractions, restaurants and shops in the Netherlands.
Read more