Tourist information offices
Tourist information offices
12,136 Views
Nearly every city and municipality in Holland has a tourist information office of its own. These can be recognised by their blue and white VVV signs, and are usually found in the local centre.
What do tourist information offices offer?
Every tourist information office in Holland has all information you need about your destination in Holland. For example, the tourist information office staff will gladly help you with:
Specific tourist information about the location and the region (such as attractions, restaurants and events)
Lodging tips
Maps and plans for walking, cycling and car tours
Guided tours
Admission tickets
Holland's much-visited cities and popular tourist locations commonly have larger tourist information offices which also sell souvenirs and rainwear, for instance.
Search for your holiday home
Check out our extensive offers.
2000 holiday homes throughout Holland.
On the coast, in a natural environment or near cities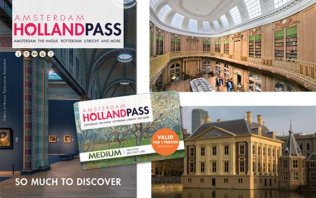 Receive free entrance and discounts to a wide range of museums, attractions, restaurants and shops in the Netherlands.
Read more