Photo: © NBTC / Bring yourself
"Cooking is fun!" Chef Sharon De Miranda really enjoys cooking and would be happy to teach you too. "You need the right tools, and trial and error is a great way to learn. It doesn't matter if it sometimes goes sideways. Anyone can cook." Sharon serves the menu of the future at Food Forum, the Flevoland pavilion at the
Floriade
.
Bring yourself, Sharon will do the same
Sharon de Miranda is 36 years old. She works as chef at Food Forum (Flevoland Pavillion at the Floriade Expo) in Almere.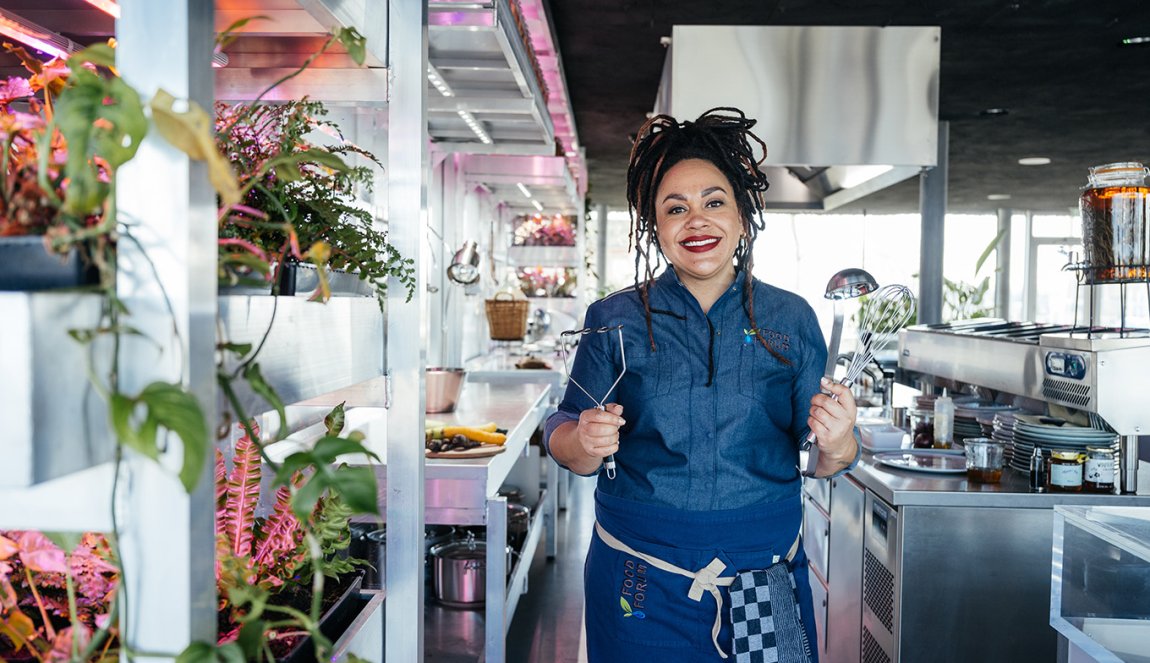 Sharon De Miranda
Sharon was born in the Netherlands, but her multicultural background has influenced her dishes. "I find inspiration from all corners of the world. For example, I really love Dutch stew with rendang (Indonesian meat dish) ." In Curaçao she trained to become a chef with a focus on Caribbean cuisine, followed by a course in Amsterdam with an emphasis on French cuisine. Sharon De Miranda has been a regular on Dutch television since 2015 as one of the chefs on the BinnensteBuiten TV-show, where she prepares dishes that are affordable and achievable for everyone.
A culinary journey through the province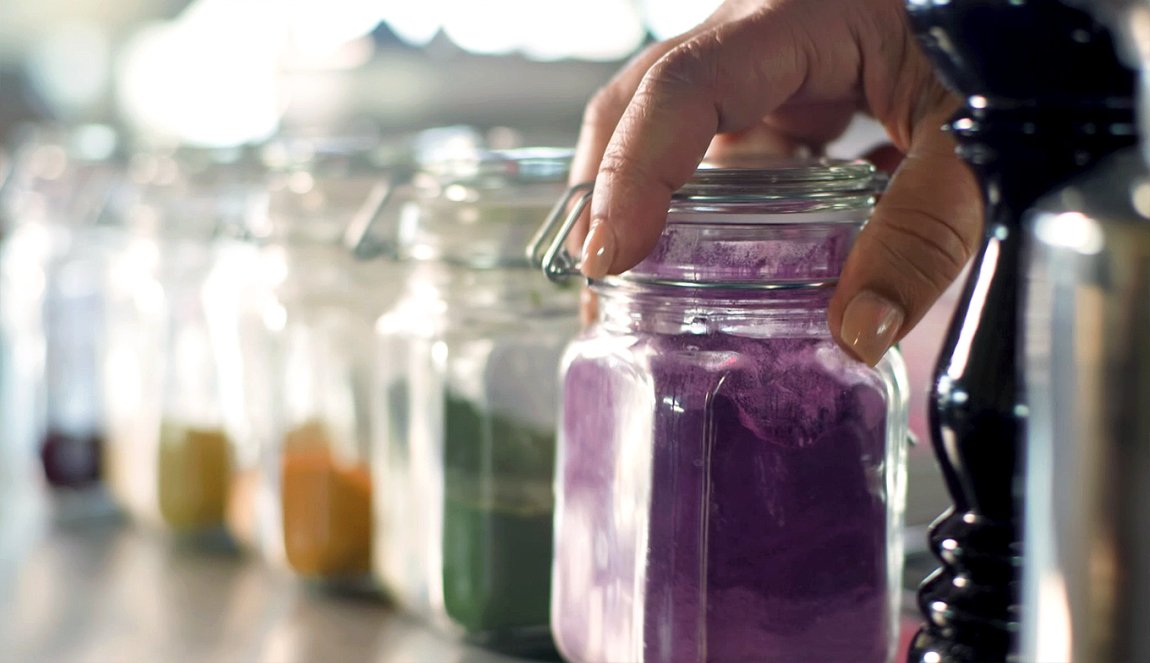 At the Floriade's Food Forum, the province of Flevoland is showcased as an innovative food producer. As the new chef of the pavilion, Sharon was allowed to do extensive research for a sustainable menu with local products as the basis. "I've been to every corner of Flevoland looking for sustainable products to put together attractive menus. It was such a revelation to discover all these local products and the delicious dishes you can make with them. I was so surprised by what I found, such as numerous fish species. There's no demand for them, so you don't see them on a menu."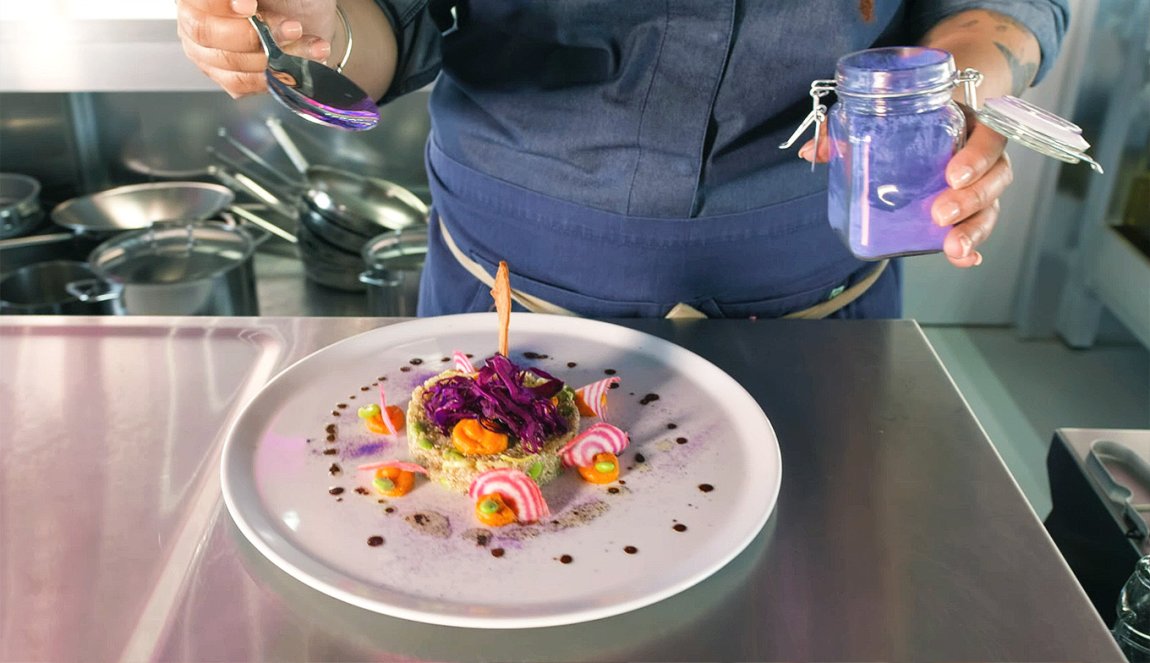 Her food journey has culminated in 'the menu of the future'. "That means plentiful, safe, healthy and contemporary food for everyone, without exhausting the planet." The menu is seasonal and plant-based as much as possible. "Eating more plant-based food and less meat means you're doing your part for the future!" Sharon settled on the idea to cook using only local products. "Everything is local, including the herbs and spices, other than three things that I really can't do without - coffee, cocoa and coconut milk." That's why she doesn't use citrus fruits in the Food Forum. They don't grow in the Netherlands. "But you can do a lot with apple cider vinegar, for example. I replace olive oil with canola oil, and the fish is sourced from Urk."
Eat less meat and follow the seasons more, your wallet will thank you."
Experiments and tastings
Sharon is not the type to impose her ideas on others. She prefers to let people see and taste something first. "Then I ask them if they think anything was missing and only then do I tell the story behind it, which is sustainability my way and how it can also be fun." I don't really use the menu, she says with a laugh. "I like to experiment and don't want to throw anything away. If the produce store has a good offer, I'll use that to create something tasty. People don't really get anything with meat from me here. And when people leave, they always say they didn't miss anything. Now, isn't that fantastic?!" Sharon is not against meat but feels it should be served a little less and that you should choose wisely. "For example, I will specifically ask a farmer for roosters instead of chickens, bulls instead of cows, and billy goats instead of female goats."
© NBTC / Bring yourself

© NBTC / Bring yourself

© NBTC / Bring yourself

© NBTC / Bring yourself

© NBTC / Bring yourself

© NBTC / Bring yourself
The path towards a healthy, sustainable future
Sharon will continue to pursue this path because it really inspired and motivated her. "If I hadn't made this journey the way I have, I wouldn't have known about these things myself. It is achievable, not extreme, and you can make good choices. I really believe in it and it's fun to do." Eating seasonal food and cooking with local products – in an easy, uncomplicated way – is reflected in her new cookbook Colorful Food. She's confident that the next steps on her path will come naturally. And in conclusion: "I don't think people consciously make unhealthy choices. Eat less meat and follow the seasons more, your wallet will thank you."
Where do you see the Netherlands in 10 years?
"I would like the Netherlands to be more inclusive and with more diversity. Look, I was born right here in the Netherlands and yet people see me as a foreigner. I have a Dutch mother, a Caribbean father, and an Indonesian grandmother. My cooking has been influenced by many different sources, but who says that Dutch means only the traditional potato?! I can see all kinds of products and then come up with dishes using these ingredients, it's what I enjoy doing the most," Sharon concludes enthusiastically. In 10 years, Sharon hopes the food on our plates will have changed too – a greener and healthier menu that has influenced everyone for the better.