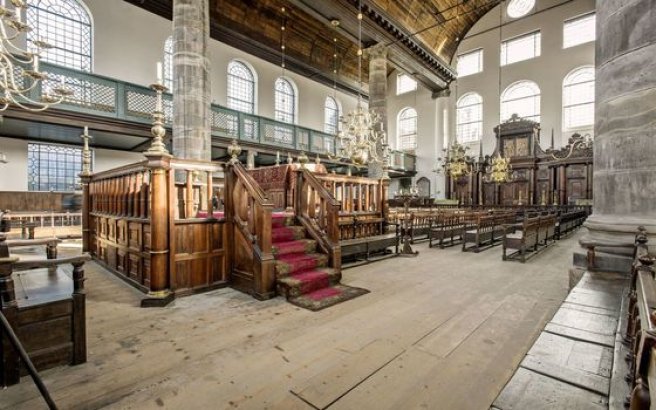 In the heart of Amsterdam you'll find the Jewish Cultural Quarter. Here you can travel back in the days of Amsterdam's Golden Age in the Portuguese Synagogue or find out all about Jewish culture, history and tradition in the Jewish Historical Museum with its's Children's Museum, the National Holocaust Memorial and the National Holocaust Museum – all with just one ticket.
Portuguese Synagogue
In the Centre of the Jewish Cultural Quarter stands the magnificent Portuguese Synagogue. The building is still used as a house of worship, but it is also open to the public, and concerts are held there regularly. The 17th-century interior is still fully intact and illuminated by hundreds of candles.  Discover also the impressive museum treasury in the outbuildings.
Jewish Historical Museum and Children's Museum
The Jewish Historical Museum is located in four monumental synagogues near the Waterlooplein. Three permanent exhibitions illustrate the history and culture of the Jews in the Netherlands. The  Children's Museum focuses on Judaism in a unique and lively way. Children learn about Jewish tradition while making braided bread, writing Hebrew in the study or playing instruments in the music room.
National Holocaust Memorial
The National Holocaust Museum is located in the former teacher training school where during the Second World War hundreds of Jewish children, who were held captive in the crèche next door, were smuggled to relatively safe places. At this historic site the story of the Holocaust is told in changing exhibitions and  events in an artistic form and based on personal accounts.
Opening times
Jewish Historical Museum, Children's Museum, National Holocaust Memorial and National Holocaust Museum
Open: Daily from 11.00 am to 17.00 pm
Closed: King's Day (27th April), Rosh Hashanah - Jewish New Year (21-22 September) and Yom Kippur - Day of Atonement (30 September)

Trade service
The Jewish Cultural Quarter works together with many (online) FIT providers, DMC's and outbound operators. We offer possibilities for ticket resellers and voucher contracts for group visits. It is advisable to arrange group visits, guide tours and special rates for tour operators in advance with the Service & Sales Department

T +31(0)20 5 310 380
E [email protected]
W: www.jck.nl/trade
Portuguese Synagogue
Mr. Visserplein 3
1011 RD Amsterdam
Noord-Holland 
Jewish Historical Museum & JHM Children's Museum
Nieuwe Amstelstraat 1
1011 PL
Amsterdam
Noord-Holland
National Holocaust Memorial
Plantage Middenlaan 24
1018 DE
Amsterdam
Noord-Holland
National Holocaust Museum
Plantage Middenlaan 27
1018 DB
Amsterdam
Noord-Holland
Other museums and attractions