Opening times 2017: 22 March to 21 May inclusive, daily from 08.00 - 19.30 hrs.
Keukenhof is the perfect place to enjoy millions of flowering tulips, daffodils, hyacinths and other bulb flowers. Keukenhof is the most entertaining and most floral of days out and will guarantee excellent photo opportunities. The most beautiful spring garden in the world will offer you a unique sensation of scents and colours, more than 20 spectacular flower shows, surprising inspirational gardens and many more buzzing events.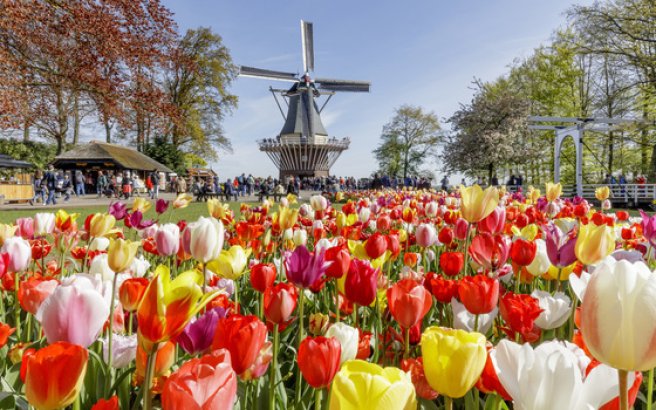 Keukenhof is unique in the world, it offers a day full of experiences that you will not easily forget. Let your guests discover the buzz, the enchantment and inspiration of Keukenhof. In short an unforgettable experience!
A visit to Keukenhof guarantees a wonderful day for everyone.
Keukenhof is perfect for all ages. Enjoy lunch or dinner in one of the restaurants, a drink in the grand café or a picnic in the spring meadow. Discover the surroundings the Dutch way, by bicycle or on board a silent electric boat for a unique trip through the bulb fields. Children can enjoy the labyrinth, the playgrounds, the petting farm and the miffy playing area. A scavenger hunt leads them past the most beautiful spots in the park.
Trade Contact
We will be happy to assist you in promoting your Keukenhof tour. We have a range of superb images of the park that you can use, copyright-free, in your own catalogue, brochure or website. If you have any questions, suggestions or ideas, please contact our Sales Managers:
Karin Hoogland, Sales Manager, +31 (0)252 465 564 or [email protected]
Michiel Faulhaber, Sales Manager, +31 (0)252 465 564 or [email protected]
Bloemententoonstelling Keukenhof
Stationsweg 166a - 2161 AM Lisse | Postbus 66, 2160 AB Lisse - Holland | Tel +31 (0)252 465 555 |  Fax +31 (0)252 465 565 | www.keukenhof.nl - [email protected]
Find out what's nearby
Address:
Stationsweg 166a
2161AM Lisse
Visit the website
Other museums and attractions