Creating a swell in the political heart of The Hague
Creating a swell in the political heart of The Hague
11 Views
February 13, 2013
Creating a swell in the political heart of The Hague
Read more
DEiNiNG is an arts & crafts gallery in the centre of The Hague. All the work is made by artists/craftsmen that work and live in The Netherlands. 
The Dutch word Deining has a double meaning: One is a swell, heave or rocking motion, the other commotion or excitement. And that is exactly what this venue stands for.
When you meet in the exclusive small meeting room (up to 8 people), you will experience excitement when you see today's facilities stylishly combined with an interior design that suits a 19th century monument. 
After hours the gallery space itself can also be used for meetings and functions. The team at DEiNiNG believes that beauty, care and attention contribute to constructive meeting, creativity and wellbeing. This is reflected in both the setting and the service. A worry-free meeting experience!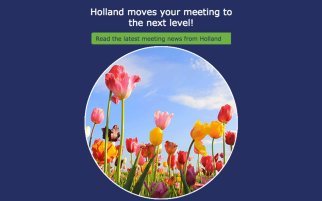 If you are interested in the latest news from Holland as a meeting destination, our Holland Meeting newsletter is perfect for you. We will keep you informed about the latest openings, best meeting deals and give you some inspiring ideas for your next meeting in Holland!
Subscribe
Let's meet at one of the Trade Shows
Team Holland is looking forward to welcoming you at the Holland stand during IMEX Frankfurt, the worldwide exhibition for meetings, events and incentive travel.

Read more

Team Holland is looking forward to welcoming you at the Holland stand during IBTM World, the leading global event for meetings, business travel and more.

Read more

Team Holland is looking forward to welcoming you at the Holland stand during IMEX America, the biggest meetings industry trade show in the US.

Read more