Amsterdam's Gay and Lesbian Hotels
Amsterdam's Gay and Lesbian Hotels
1122 Views
Amsterdam's Gay and Lesbian Hotels
Amsterdam has numerous gay-friend hotels, but these hotels exclusively target gay travelers.
Read More
Though no hotel can refuse service to couples of any sexual orientation, the following hotels focus their efforts and services on catering to gay clientel.
Hotel Orfeo
Leidsekruisstraat 14
Orfeo is a hotel and hostel located near the very active Leidseplein. Targeting the budget traveler and backpacker.
Golden Bear
Kerkstraat 37
Gay Hotel the Golden Bear is located in 2 historic buildings and is the oldest gay hotel in Amsterdam, having been founded shortly after WWII. The  hotel is only minutes away from the famous Club Church and Reguliersdwarsstraat's gay bars and clubs. 
ITC Hotel
Prinsengracht 1051
Small hotel offering servicable rooms to budget conscious travelers.
Freeland Hotel
Marnixstraat 286
This friendly hotel is located on the corner of the Leidseplein and very close to the main attractions and places of interest.
Hotels near the Gay Areas
Eden Hotel - Hamshire Eden
Amstel 144
Located around the corner from the Rembrandt Plein and a 10 minute walk away from the Reguliersdwarsstraat, one of the main gay streets in Amsterdam, this is a perfect location to start exploring Amsterdam.
NH Carlton Amsterdam
Vijzelstraat 4
This hotel is located on top of the entrance of the Reguliersdwarsstraat. You can see all the gay bars from your hotel room!
Sofitel The Grand Amsterdam
Oudezijds Voorburgwal 197
This luxury 5 star hotel offers a quiet but central base in Amsterdam. The royal Palace, Hermitage museum and popular shopping streets are just around the corner.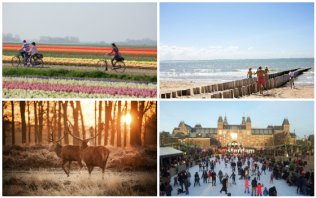 Holland is beautiful in all seasons. Find the best holiday tips for spring, summer, autumn and winter.
Read More
More in this city
The most famous flower market in Holland is located in the heart of Amsterdam.

Read More

Strolling through the best markets of Amsterdam.

Read More

Rijksmuseum, the museum of the Netherlands with masterpieces from the Middle Ages to the 20th century.

Read More

The masterpieces, letters and history of Van Gogh.

Read More

The best of the iconic canals of Amsterdam.

Read More

The easiest and serviceable way for traveling to and across Amsterdam.

Read More

Plan a romantic weekend in Amsterdam.

Read More

Read the stories behind the narrowest house in Amsterdam, the narrowest street in Amsterdam and the Kleine Trippenhuis.

Read More

Discover how the Frank family and other people lived in hiding during the occupation of Holland.

Read More

Russian art, history and culture in Amsterdam.

Read More

Discover the world of Heineken® through an interactive self-guided journey in the former Heineken® brewery.

Read More

Take the tour and learn all there is to know about diamonds and Amsterdam's history as a diamond city.

Read More

A subject on which there is much to be said.

Read More

On a summer's day in Amsterdam, the best beaches to visit are Strand Zuid, Strand West and Strand IJburg.

Read More

Special little shops and welcoming cafés the Amsterdam way – discover the great 9 Straatjes shopping district.

Read More

A royal palace in the heart of Amsterdam.

Read More

Looking for the places with the best views of Amsterdam? Your search is over!

Read More

Amsterdam has excellent fashion shops for every budget.

Read More

Amsterdam is at its most beautiful seen from the water.

Read More

Renting a bicycle for your stay in Amsterdam may be the most cost-effective and fun way you can see the city.

Read More

Enjoy a snack the way the natives of Amsterdam do, and get a croquette from the wall at FEBO.

Read More

Spend your time well and visit a few of Amsterdam's highlights during your layover at Amsterdam Airport Schiphol.

Read More

Different squares with different faces.

Read More

Discover the best department stores and shopping centres in Amsterdam.

Read More

One of the most beautiful cinemas in the world.

Read More

The Amsterdam Tulip Museum traces the history of the tulip.

Read More

Discover how much Holland owes to the sea.

Read More

Celebrities are waiting for you in Amsterdam.

Read More

What you need to know before visiting the Red Light District in Amsterdam.

Read More

The best shopping areas of Amsterdam in one overview.





Read More

The Zevenlandenhuizen are each characterized by their own European style, and are part of the unique architectural landscape of Amsterdam.

Read More

Combine the Amsterdam canals and the city's famous bikes. Hop on a water bike and pedal through the canals.

Read More

In contrast with the old days the Dam is now a peaceful square which is home to scores of pigeons and street artists.

Read More

Discover the best restaurants in Amsterdam.

Read More

Discover the traditional side of the Netherlands. See the typical Dutch postcard impressions with cheese, windmills and folklore in real life.

Read More

The brilliance of Gassan and Coster Diamonds.

Read More

Quite some people are living on the Amsterdam canals.

Read More

Discover the many beautiful works of art and sculptures in Amsterdam.

Read More

One of the most beautiful places in Amsterdam.

Read More

EYE is the only museum in the Netherlands that is exclusively dedicated to film and the moving image.

Read More

Discover his biography, his talents and his famous works.

Read More

Visit the protestant church of Amsterdam.

Read More

Are you ready for the most exciting experience in Amsterdam?

Read More

Make the best of your 24 hours in Amsterdam with our suggested itineraries for one day in Amsterdam.

Read More

Cinemas, discos, theaters and a casino are located right on the square or within easy walking distance.

Read More

Get to know the man behind the masterpieces.

Read More

Learn more about the most lively quarters: 'Jordaan' and 'De Pijp'.

Read More

Renowned architects changed the old docks and port buildings into a modern residential area of Amsterdam.

Read More

Amsterdam is famous for its coffeeshops.

Read More

Home of the Dutch National Ballet and The Netherlands Opera.

Read More

One of the best concert halls in the world.

Read More

All you need to know about parking and parking policy in Amsterdam

Read More

Play and a meal at the city theatre.

Read More

Hidden away behind Dam Square is one of the most beautiful tasting rooms in the Netherlands, where guests can taste home-distilled Dutch jenever.

Read More

The most famous bridge in Amsterdam: de Magere Brug.

Read More

In Amsterdam, visit multiple cheese shops and taste the flavors of different regions of Holland.

Read More

Explore the wonderful period rooms at the Geelvinck Museum!

Read More

Amsterdam in summer is filled with cultural highlights and festivals.

Read More

The new church of Amsterdam is located next to the Royal Palace on Dam Square and is in fact 600 years old.

Read More

Things to do in Amsterdam if you only have two days. With these travel tips you will make the most of your two days in Amsterdam.

Read More

Visit the best collection of modern and contemporary art and design of Amsterdam.

Read More

The best collection of spectacles in the world.

Read More

An amazing architectonic structure in Amsterdam.

Read More

One of Amsterdam's best-known monuments.

Read More

Learn about the religion, culture and history of the Jewish people and Judaism in Holland.

Read More

Holland's most important 19th-century architectural monument.

Read More

Don't look any further for suggested itineraries for your 3 day trip to Amsterdam. These are the best tips for 72 hours in Amsterdam.

Read More

For lovers of art! Every Sunday from March through December an open-air sales exhibition is organized on Spui Square.

Read More

Join hundreds of skaters during the Friday Night Skate in Amsterdam and enjoy some of the best skate spots of Amsterdam.

Read More

The Houseboat Museum in Amsterdam was created due to curious visitors' questions.

Read More

Museum Van Loon is the former residence of a family of regents in Amsterdam. The home is a living museum with a great art collection.

Read More

Visit House of Bols and explore the story of the world's oldest distillery.

Read More

Discover more than 4,000 plant species at the Hortus Botanicus.

Read More

Discover the canal district's rich history at the beautiful Grachtenhuis.

Read More

The Amsterdam Arena: football stadium and music stage.

Read More

Heineken Music Hall… where top artists like to perform.

Read More
Our recommendations for more Holland information
Beaches, flower-bulb fields and royal feasts: Holland celebrates spring outdoors!

Read More

Undoubtedly one of the jewels of Europe, and not just because of the stunning 17th century canals. Go find out for yourself!

Read More

Hotels in special locations, luxurious or low-budget. Book your hotel room at attractive rates here.


Read More

Holland is the ultimate destination for cycling thanks to its flat landscape, mild climate, short distances and wonderful infrastructure.

Read More