Cafés and terraces in Utrecht
Cafés and terraces in Utrecht
2739 Views
Cafés and terraces in Utrecht
After an afternoon of strolling through the lovely city centre of Utrecht, we think you might enjoy a rest on a sunny terrace or a drink in a cosy café. And you've come to the right place. As a student town, Utrecht has plenty of welcoming bars and terraces. We have selected a few convivial addresses for you so you won't have to waste any time choosing...
Read more
Utrecht is the vibrant, lively heart of Holland. In addition to the famous Dom Tower and many historic monuments, Utrecht boasts beautiful canals with unique wharf cellars full of cafes and waterside terraces.
Enjoy a night out in the beautiful and stately building of De Winkel van Sinkel.
De Rechtbank has been voted the best terrace in the city of Utrecht several times.
A list of the 10 best cafes and terraces.
5x cafes in Utrecht
1. Olivier
Located in a gorgeous old church with a unique atmosphere, Olivier has a vast range of special Belgian beers to enjoy. Address: Achter Clarenburg 6A
2. Stadskasteel Oudaen
In this spectacular castle in the centre of Utrecht you can enjoy not only excellent beers, but also see how they are brewed in the castle's own brewery. Address: Oudegracht 99
3. Filemon & Baucis
Café Filemon on Janskerkhof is a stylish place with a hip and sleek interior design where the atmosphere is always great. On weekends, the DJ primarily plays old disco and soul house music. Address: Janskerkhof 22
4. Winkel van Sinkel
Without a doubt on of Utrecht's best-known names among those who enjoy a great evening out. This stylish grand café offers excellent food and drink and regularly organises cultural activities. Address: Oudegracht 158
5. Wijncafé Levebvre
Wijncafé Levebvre is a hybrid of a modern cafe and an old-style tasting room. Enjoy great wines and tapas. Address: Neude 2
5x terraces in Utrecht
1. Den Draeck
This restaurant is located in one of the traditional wine cellars on the famous Oude Gracht canal. In summer, Den Draeck's terrace is a wonderful place to have lunch or dinner. Address: Oudegracht a/d werf 114-122
2. De Rechtbank
De Rechtbank was once elected the best city terrace in Holland, and not without reason. Comfortably installed at the foot of its monumental façade, De Rechtbank offers enjoyment all day long with breakfast, lunch, high tea, aperitifs and dinner. Address: Korte Nieuwstraat 14
3. Fort aan de Klop
In a beautiful location well removed from all the hustle and bustle you will find a 19th-century military fortress that has been converted into a brasserie with a wonderful terrace. Definitely worth going out of your way for! Address: 1e Polderweg 4
4. Wijnlokaal Aal
Utrecht's canals, lined with old wine cellars, are an attraction in their own right. And there is no more beautiful place to sit than by Oudegracht canal, with a snack and a glass of wine from Aal. Address: Oudegracht 159D
5. Balije Park
Just outside the city, in the village of de Meern, lies Restaurant Balije Park's terrace. And this terrace has been voted the best terrace in the entire Utrecht region. Address: Augustusweg 32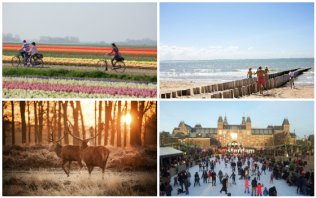 Holland is beautiful in all seasons. Find the best holiday tips for spring, summer, autumn and winter.
Read more
More in this region
Cycle or walk along the fortresses of the 19th century fortification and combine nature with monuments.

Read more

Be enchanted by the largest castle of Holland.

Read more

The former residence of Princess Beatrix is just a stone's throw from Soestdijk Palace.

Read more

The former palace of the Royal Family in Baarn.

Read more

Amersfoort has a compact city centre that is just perfect for a day on the town.

Read more

Visit the birthplace of De Stijl co-founder Piet Mondrian, now a museum about his life and work.

Read more

A forest full of animals and adventures.

Read more

Visit the Witches Weighhouse and discover the witch in your family!

Read more

Discover the luxurious 20th century manor of the last German Emperor

Read more

What a Zoopendous adventure! You can nose up to our polar bears and visit our new sea lion show "Elements".

Read more

Explore the loveliest windmills and greenest pastures amid beautiful historic cities.

Read more

Slot Zuylen Castle is one of the treasures of the Vecht region, and a place that has remained unchanged since 1752. Visit Slot Zuylen and feel like you've taken a trip back in time to the 18th century.

Read more

Groeneveld Castle has truly breathtaking gardens. You can also explore the scenery around Groeneveld with a forest ranger from the Dutch Forest Service.

Read more

Meet the former residents of Castle Amerongen thanks to a modern multimedia production, and stroll around the beautiful castle gardens, with a total area of 10 hectares (almost 25 acres).

Read more

In the Vechtstreek Dutch landscapes are dotted with castles, forts and country houses.

Read more

Utrecht and its eight fortresses are part of the New Dutch Waterline.

Read more
Our recommendations for more Holland information
Beaches, flower-bulb fields and royal feasts: Holland celebrates spring outdoors!

Read more

Undoubtedly one of the jewels of Europe, and not just because of the stunning 17th century canals. Go find out for yourself!

Read more

Book your hotel in Holland well in advance. Check out the most popular places here.


Read more

Holland is the ultimate destination for cycling thanks to its flat landscape, mild climate, short distances and wonderful infrastructure.

Read more