Caves of St. Pieter
10680 Views
Over the centuries, the mining of marl in the caves of St. Pieter has resulted in the formation of a labyrinth with over 20,000 tunnels. The so-called block breakers (marl cutters) as well as various artists have left their marks behind in the form of various texts on the walls, some of which are very old. Today the mines and caves only serve as a tourist attraction.
Refuge for Residents
The mining of the caves probably started in the time of the Romans, but the caves weren't only a source of marl. Throughout the years, they have also served as a place of refuge for residents of the city during the many sieges which Maastricht has endured. Listen to the stories of survivors and watch the facilities that were put in place for those who sought shelter here.
Tour the Caves
The local tourist information office (VVV) can help you select a tour. The temperature in the caves is 9 to 10°C so make sure to bring a sweater or jacket. The guided tours last about one hour and are led by official guides.
Find out more about Maastricht or the attractions of Maastricht.
What's nearby
Show on map
Address:
Luikerweg 71
6212NH Maastricht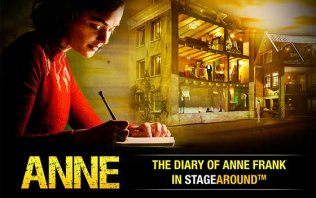 See ANNE in Theater Amsterdam! A unique play, translated into 8 languages, about the life of Anne Frank.
Read More
More in this city
Explore the exuberant city of Maastricht with its many fantastic restaurants.

Read More

It is possible to visit a market every day of the week in Maastricht, where you can browse the seemingly endless wares on display.

Read More

Discover the best shopping centres and department stores in Maastricht.

Read More

Travel to the top of the Cauberg, where Thermae 2000 arises like a pale oasis.

Read More

The best Dutch wines are produced in the vineyards around Maastricht.

Read More

The Sint-Servaasbrug is one of the most characteristic structures in Maastricht.

Read More

Enjoy the Limburg landscape and various cultural attractions to the fullest during a cruise down the Meuse.

Read More

Art tells the story of Maastricht at the Spaans Gouvernement building on the Vrijthof.

Read More

Maastricht is best discovered by foot. Enjoy these great walking tours when you visit Maastricht.

Read More

Maastricht's golf course of choice is Golfbaan Het Rijk van Margraten. Tee off in the hills of Limburg, surrounded by farmland, forests and vineyards.

Read More

Markets in Maastricht are held almost every day, with vendors selling local specialties and more.

Read More

Shopping with a Parisian atmosphere.

Read More

Like no other city, Maastricht knows how to charm you and treat you to the good things in life.

Read More

Enjoy the most prominent square of Maastricht.

Read More

The small municipality Valkenburg is a tourist attraction on its own.

Read More

This former principality is characterised by its white houses.

Read More

Learn more about architecture in the European region around Maastricht.

Read More

The most prominent fortification of Maastricht.

Read More

Take a tour through the underground network of Maastricht.

Read More

Modern and medieval art in Maastricht.

Read More

The basilica in Maastricht that has attracted pilgrims and religious tourists for centuries.

Read More

Light a candle in the Roman catholic basilica.

Read More
Our recommendations for more Holland information
Winter in Holland is magical and we like to make things extra warm and cosy during the dark days of the year. Therefore we selected the best best tips for you; from New Year's Eve in Amsterdam, the best ice-skating rinks, christmas shopping and many more.

Read More

Undoubtedly one of the jewels of Europe, and not just because of the stunning 17th century canals. Go find out for yourself!

Read More

Hotels in special locations, luxurious or low-budget. Book your hotel room at attractive rates here.


Read More

Holland is the ultimate destination for cycling thanks to its flat landscape, mild climate, short distances and wonderful infrastructure.

Read More