Daubigny, Monet, Van Gogh: Impressions of the landscape exhibition
Daubigny, Monet, Van Gogh: Impressions of the landscape exhibition
659 Views
October 21, 2016 - January 29, 2017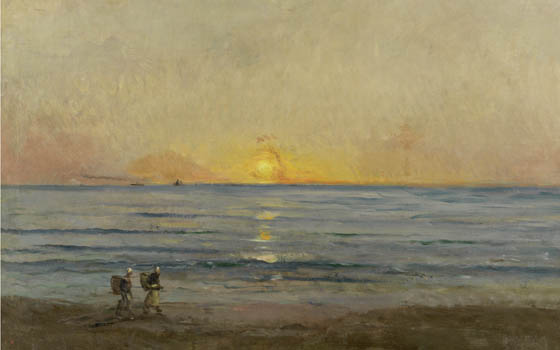 Daubigny, Monet, Van Gogh exhibition
Daubigny, Monet, Van Gogh exhibition: a unique exhibition at the Van Gogh Museum. Buy your ticket now and present it on your smartphone in the voucher lane.
Read more
From 21 October 2016 through 29 January 2017, the Van Gogh Museum in Amsterdam will be showing the Daubigny, Monet, Van Gogh: Impressions of Landscape exhibition. It explores Daubigny's huge impact on Van Gogh and other Impressionist greats like Monet, Pissarro, and Sisley.
It is the first time and a unique opportunity to see Daubigny's role as the founder of Impressionism.
Explore Daubigny as a big inspiration for Vincent van Gogh.
Buy your tickets directly online.
The exhibition
The exhibition is about Charles-François Daubigny, who is lauded by his innovative drive and loved by collectors, critics and the public at large. For the first time, the museum highlights Daubigny's role as the founder of Impressionism and a source of inspiration for van Gogh and other Impressionist painters from the 1860s and 70s.
Landscape drawings
Drawing landscapes was a very popular pastime in the 19th century. Van Gogh admired the work of the landscape painter Daubigny and considered him an innovator of the French art of painting. This is clearly visible in the moody landscape paintings of the Barbizon School as well as Van Gogh's expressive farmer's fields. You can also see a presentation of the best French landscape drawings in the Van Gogh Museum collection in the Print Room.
More Van Gogh
Discover more by Vincent van Gogh. The Kröller-Müller Museum in National Park De Hoge Veluwe also possesses an impressive  Van Gogh collection. Or cycle through Van Gogh's world and discover his roots in the province of Brabant. The bicycle route was elected European Cycling Route of the year 2016.
To discover nearby
After visiting the Van Gogh Museum, you naturally want to see more of Amsterdam. The adjoining Stedelijk Museum and  Rijksmuseum Amsterdam are also located on Museumplein square. Visiting  Anne Frank House or the  Hermitage is also well worth your while.
Please note that the museum is less crowded in the morning.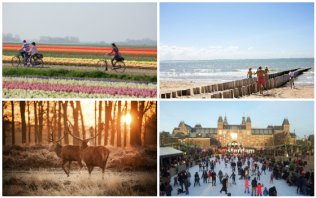 Holland is beautiful in all seasons. Find the best holiday tips for spring, summer, autumn and winter.
Read more


Our recommendations for more Holland information
Beaches, flower-bulb fields and royal feasts: Holland celebrates spring outdoors!

Read more

Undoubtedly one of the jewels of Europe, and not just because of the stunning 17th century canals. Go find out for yourself!

Read more

Book your hotel in Holland well in advance. Check out the most popular places here.


Read more

Holland is the ultimate destination for cycling thanks to its flat landscape, mild climate, short distances and wonderful infrastructure.

Read more