Delft's Secrets
2942 Views
It is not just the historic city centre and rich history of Delft that will amaze you. The city is full of special surprises that are worth your consideration. To ensure that you don't visit Delft and miss out on any of the city's hidden pearls, we are uncovering the secrets of Delft below
Bakkerij de Diamanten Ring (Choorstraat 9): Buy a bag of 'Scheve Jantjes'. These adorable butter cookies produced by Bakkerij de Diamanten Ring bear the image of the Oude Kerk and come in a lovely Delft Blue cookie tin. This is the most flavourful souvenir available in Delft.
Winkeltje Kouwenhoven (Sint Agathaplein 3a): Winkeltje Kouwenhoven sits comfortably next to Museum het Prinsenhof. The authentic shop – its interior is a century old – sells a host of old-fashioned, nostalgic products. Stop by for a bag of vintage Dutch candy, such as liquorice and liquorice candy, as well as coloured sour balls.
Uit de Kunst (Oude Delft 140): This coffee house serves freshly made coffee and homemade apple pie. The shop sells a range of Art Deco furniture. On the sidewalk, you'll find the world's smallest museum. A different artist exhibits his work in the old-fashioned telephone box each month.

World of Delights (Markt 62): Step into a gigantic pair of wooden shoes in front of World of Delights. Take the ultimate 'Holland photo' at this popular souvenir shop. 
Aardewerkfabriek de Candelaer (Kerkstraat 13): The workshop of the Candelaer pottery factory is open so you can watch the Delft Blue painters at work from the street. See the masters responsible for hundreds of Delft Blue works of art.
Toeristen Informatie Punt (Hippolytusbuurt 4): The TIP shop sells Delft Blue pottery printed with your picture. Stop by at TIP if you have any questions about Delft and to buy your very own Delft Blue tile, mug or plate.
Hofjes van Delft Hidden in Delft's inner city, you'll find several intimate courtyards. If you want to visit these lovely cottages surrounding their green courtyards, walk to the Hofje van Gratie (Van der Mastenstraat 26-38), Hofje van Pauw (Paardenmarkt 54-62), Hofje van Almonde (Bagijnhof 10-22) and Klaeuwshofje (Oranje plantage 58-77).
Hotel de Emauspoort (Vrouwenregt 9-11): This hotel in the centre of Delft has a number of special bedrooms. You can spend the night in the Vermeer Room, for instance, which is inspired on the famous Delft painter. Or sleep in one of the authentic caravans from the old Dutch children's TV show Pipo de Clown.
Stads-koffyhuis Kleyweg (Oude Delft 133): It is not really a secret anymore, but Stads-koffyhuis Kleyweg serves the best sandwiches in Holland. Order the Alex' Keuze sandwich and decide for yourself.
What's nearby
Show on map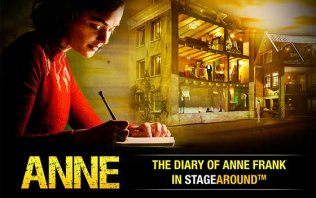 See ANNE in Theater Amsterdam! A unique play, translated into 8 languages, about the life of Anne Frank.
Read More
More in this city
Delft City Hall is one of the city's landmarks.

Read More

Explore Delft and its surroundings with this bicycle itinerary across Delftse Hout.

Read More

Experience a day in Delft with an itinerary that includes all the highlights and a wealth of tips.

Read More

Delft is the City of Orange in Holland. The relationship between Delft and the Royal Family goes back centuries.

Read More

Discover the best restaurants, lunchrooms and culinary delights in Delft.

Read More

With 7000 plants, the Botanical Garden of Delft University of Technology is the greenest place in Delft.

Read More

Pubs, open-air terraces, clubs and a great deal of students: nightlife in Delft has lots to offer.

Read More

Delft University of Technology campus boasts several remarkable architectural works.

Read More

The most attractive streets, the best shops, all of it in a pedestrian district.

Read More

Delft University of Technology allows children to play with science at Science Centre Delft.

Read More

Find some souvenirs and buy the best food at the lovely markets in Delft.

Read More

The canals of Delft served as defense and lifelines throughout the city.

Read More

Read all about the origins of Delft Blue, and where to go in Delft to see this famous earthenware.

Read More

For centuries, the exclusive, hand-painted Delft earthenware has been made in this unusual factory.

Read More

Visit the only Delft earthenware factory remaining from the 17th century in Delft.


Read More

Living quarters of William of Orange.

Read More

An eye-catcher in the historical heart of Delft.

Read More

An important church for the Dutch Royal House.

Read More
Our recommendations for more Holland information
Winter in Holland is magical and we like to make things extra warm and cosy during the dark days of the year. Therefore we selected the best best tips for you; from New Year's Eve in Amsterdam, the best ice-skating rinks, christmas shopping and many more.

Read More

Undoubtedly one of the jewels of Europe, and not just because of the stunning 17th century canals. Go find out for yourself!

Read More

Hotels in special locations, luxurious or low-budget. Book your hotel room at attractive rates here.


Read More

Holland is the ultimate destination for cycling thanks to its flat landscape, mild climate, short distances and wonderful infrastructure.

Read More