Discover Jheronimus Bosch in Den Bosch
Discover Jheronimus Bosch in Den Bosch
776 Views
June 11, 2016 - October 9, 2016
Jheronimus Bosch in Den Bosch
Modern and old art inspired by Jheronimus Bosch at Het Noordbrabants Museum.
Read more
In Bosch Year 2016, Het Noordbrabants Museum in 's-Hertogenbosch, city of Jheronimus Bosch, focuses on the painter's heritage.  Following the internationally successful exhibition 'Jheronimus Bosch - Visions of Genius', there are two more exhibitions inspired by Jheronimus Bosch.
Two exhibitions inspired by a single painter, Jheronimus Bosch
Retrospective exhibition with modern art by the contemporary artist Jan Fabre
Masterpieces from the Brukenthal collection: Van Eyck, Brueghel, Jordaens
Can be combined with a visit to the life-loving historic city of 's-Hertogenbosch and other activities in Bosch Year 2016
Old masters from the Low Countries
The exhibition 'Van Eyck, Brueghel, Jordaens – Masterpieces from Romania' shows fifty top works by Flemish and Dutch masters from the time before and after Bosch. The works come from the collection of the Brukenthal Museum in Romania. This museum's large collection was created by Baron Samuel von Brukenthal as a gift to his city, Sibiu. The selection includes important works by Jan van Eyck, Hans Memling, Jacob Jordaens, David Teniers, Leonaert Bramer, and Pieter Brueghel the Younger, which are on loan from Romania. The exhibition reflects this art-historically rich period beautifully. Together with Jheronimus Bosch, these painters lifted the art of painting in the Low Countries to the highest level. This exhibition is open until 9 October.
Jan Fabre retrospective exhibition
The retrospective exhibition of the contemporary artist Jan Fabre shows a series of mosaic panels entitled 'Tribute to Hieronymus Bosch in Congo'. The series is part of his critical reflections on the colonial past of the Belgian Congo. Using the imagery of Jheronimus Bosch, the modern artist Fabre draws attention to the cruelty and absurdity suffered by the Congo. The rest of the museum is also touched by Fabre. In the Garden Gallery (Tuingalerij), he uses extraordinary bird sculptures to create his personal interpretation of the Garden of Eartlhy Delights. The museum's permanent collection of southern Dutch masters was supplemented by Fabre with works from his broad oeuvre. In this exhibition, Fabre enters into an individualistic dialogue with his predecessors and countrymen from the 17th century. This exhibition is open until 18 September.
Find out what's nearby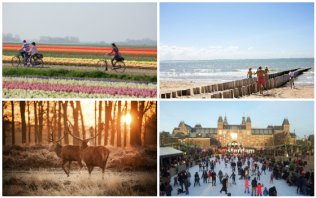 Holland is beautiful in all seasons. Find the best holiday tips for spring, summer, autumn and winter.
Read more
Our recommendations for more Holland information
Winter in Holland is magical and we like to make things extra warm and cosy during the dark days of the year. Therefore we selected the best best tips for you; from New Year's Eve in Amsterdam, the best ice-skating rinks, christmas shopping and many more.

Read more

Undoubtedly one of the jewels of Europe, and not just because of the stunning 17th century canals. Go find out for yourself!

Read more

Hotels in special locations, luxurious or low-budget. Book your hotel room at attractive rates here.


Read more

Holland is the ultimate destination for cycling thanks to its flat landscape, mild climate, short distances and wonderful infrastructure.

Read more