Dutch culture facts
5732 Views
Every culture is different. On this page you will find information on Dutch culture facts. The Dutch are well known for being straight forward in their communication. Some experience this as rude others appreciate the honesty. Doing business with a Dutchman can be experienced as a no-nonsense business conversation. In comparison to the Italians, Dutch get down to business straight away and small talk is avoided. You can find more information about the Dutch culture here. More facts and figures about the Netherlands can be found here.
About Holland.com
On Holland.com, the official website of the Netherlands Board of Tourism & Conventions, you will find information on all Dutch architecture, attractions, activities, culture, events and museums. You will also find an overview of the most beautiful cities, regions and provinces. To organize your trip to Holland, we advise you to collect information on hotels, transport and travel information.
If you would like more information about the Netherlands we advise you to read information on our website, subscribe to our newsletter or join our Facebook page.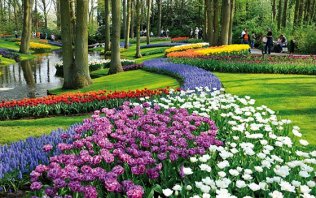 The best place to see tulips in Holland is Keukenhof. Keukenhof is a park with 7 million flower bulbs surrounded by tulip fields.
Read More
Our recommendations for more Holland information
Beaches, flower-bulb fields and royal feasts: Holland celebrates spring outdoors!

Read More

Undoubtedly one of the jewels of Europe, and not just because of the stunning 17th century canals. Go find out for yourself!

Read More

Hotels in special locations, luxurious or low-budget. Book your hotel room at attractive rates here.


Read More

Holland is the ultimate destination for cycling thanks to its flat landscape, mild climate, short distances and wonderful infrastructure.

Read More