Erasmus Bridge Rotterdam
7519 Views
Erasmus Bridge Rotterdam
The Erasmus Bridge is one of Rotterdam's icons. This architectonic highlight plays host to great events and is of great importance to the city of Rotterdam. Who knows what might be happening when you visit this enormous bridge in Rotterdam.
Read More
The 'Erasmusbrug' (Erasmus Bridge) is one of the icons of Rotterdam. One of Holland's most famous bridges, it was officially opened by Queen Beatrix in 1996 as an important connection between the Northern and Southern parts of Rotterdam.
Facts of the Bridge
Ben van created this characteristic bridge. The bridge is 800 meters long and has a 139 meter high pylon which is fastened by 32 stays. The bridge is also known as 'The Swan'.
Events at the Erasmus Bridge
The Erasmus Bridge has been the center of many spectacles, such as Hollywood movies, Red Bull Air Races, dance events and the start of the 2010 Tour de France. Who knows what might be happening when you visit the enormous bridge in Rotterdam.
Click here to go back to the Rotterdam or the architecture in Rotterdam page.

What's nearby
Show on map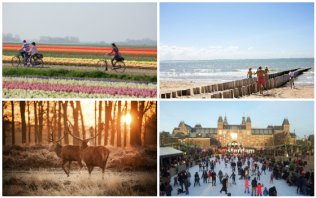 Holland is beautiful in all seasons. Find the best holiday tips for spring, summer, autumn and winter.
Read More
Our recommendations for more Holland information
Beaches, flower-bulb fields and royal feasts: Holland celebrates spring outdoors!

Read More

Undoubtedly one of the jewels of Europe, and not just because of the stunning 17th century canals. Go find out for yourself!

Read More

Hotels in special locations, luxurious or low-budget. Book your hotel room at attractive rates here.


Read More

Holland is the ultimate destination for cycling thanks to its flat landscape, mild climate, short distances and wonderful infrastructure.

Read More