Explore Holland by camper van
Explore Holland by camper van
4450 Views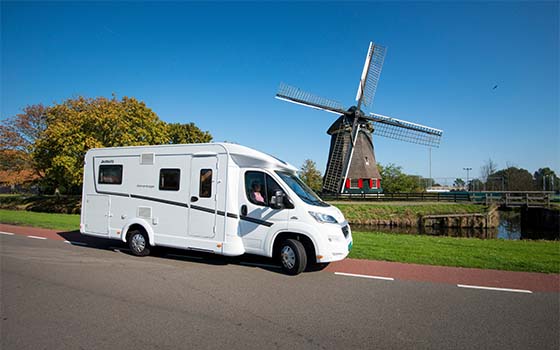 By camper van
If you want to explore Holland in a special, unique way whilst enjoying optimum freedom and comfort, we highly recommend renting a camper van!
Read more
If you want to explore Holland in a special, unique way whilst enjoying optimum freedom and comfort, we highly recommend renting a camper van!
Travel through the beautiful Dutch landscape in a fully equipped camper van.
Spend the night on a farmer's property and enjoy the ultimate freedom.
Rent your own camper van from Camperrent Holland, the absolute expert, and benefit from the best offering, 24x7 service and transparent pricing.
Wonderful freedom and comfort
Feel like a real explorer and discover Holland by camper van. This excellent mode of transport, which doubles as your home away from home, grants you perfect freedom to organise your own holiday amid beautiful landscapes and great cities and discover the best spots in Holland. How about watching wild animals on the Veluwe, enjoying the sun and fresh air on the Dutch coast or visiting beautiful historic cities like Delft and Leiden? In addition to freedom a camper van provides peace and comfort. You won't have to pack and unpack your suitcase every few days and can take your 'home' with you as you travel through beautiful Holland.
Spend the night at a farm
Holland boasts 750 free camper van spaces where you can spend the night. There are also low-cost camping van spaces that provide access to additional facilities for a modest fee.
You can also park your camper van at a farm for the night. Discover the inner workings of a Dutch farm while your children help take care of the animals. A wonderful and special experience, especially if you have children!
Rent your own camper van
Holland.com has teamed up with the best camper van specialist in Holland, Camperrent Holland, and is able to offer the most comprehensive arrangement. Camperrent Holland is a subsidiary of a family business, Booij Dethleff Centre, which has been specialising in camper van rental since 1968.
Camperrent Holland rents out camper vans for two to six persons. The camper vans are never more than two years old and come with WiFi, a tablet with GPS and a range of apps that will help you on your way. Naturally the kitchen is fully equipped and even includes a Nespresso coffee machine.
Practical information
The total rental price of a camper van consists of the rental price plus service fee, without additional driver costs, price per kilometre.
Every week of camper van rental includes up to 2,000 kilometres without surcharge.
Free delivery and return service at Schiphol Airport (within Camperrent Holland's business hours).
An all-inclusive package with towels, camping furniture, gas-fired barbecue and a refrigerator filled with typically Dutch food for your first meal costs just 150 euros.
Camperrent Holland is available 24x7 and provides the best service throughout your holiday.


Our recommendations for more Holland information
Winter in Holland is magical and we like to make things extra warm and cosy during the dark days of the year. Therefore we selected the best best tips for you; from New Year's Eve in Amsterdam, the best ice-skating rinks, christmas shopping and many more.

Read more

Undoubtedly one of the jewels of Europe, and not just because of the stunning 17th century canals. Go find out for yourself!

Read more

Book your hotel in Holland well in advance. Check out the most popular places here.


Read more

Holland is the ultimate destination for cycling thanks to its flat landscape, mild climate, short distances and wonderful infrastructure.

Read more