Gouda
Ontdek Gouda, de historische stad in de provincie Zuid-Holland, staat wereldwijd bekend om de Goudse kaas, de kaarsen en de stroopwafels. Maar er is nog veel meer te bewonderen in Gouda.
Read more
Gouda, de historische stad in de provincie Zuid-Holland, staat wereldwijd bekend om de Goudse kaas, de kaarsen en de stroopwafels. Maar er is nog veel meer te bewonderen in Gouda. 
Bekijk de Kaasmarkt in Gouda in 360 graden.
Bezoek de kaasmarkt en kijk hoe vroeger de beroemde Goudse kaas gewogen en verhandeld werd.
Ontdek de historische gebouwen zoals de Sint-Janskerk en het Stadhuis.
Vier in december het beroemde en sfeervolle lichtfeest; Gouda bij Kaarslicht.
Gouda; meer dan een kaasstad
Naast de beroemde Goudse kaas is er nog veel meer te genieten in Gouda. Want Gouda heeft een van de mooiste historische binnensteden van Nederland. Zo kunt u schitterende monumentale gebouwen bekijken en wandelen langs eeuwenoude grachten met gezellige terrasjes en leuke winkeltjes.
Wat kunt u doen in Gouda?
In het eeuwenoude historische centrum van Gouda vindt u prachtige monumenten zoals de Sint-Janskerk. Deze kerk is met 123 meter de langste kerk van Nederland en wereldberoemd vanwege haar Goudse glazen. Maar ook het oude Stadhuis, een prachtig monument uit 1450, mag u niet missen. Let vooral op het klokkenspel aan de rechterzijgevel; elke 2 minuten over het halve en het hele uur komen de mechanische poppen tot leven en trakteren u op een mooi schouwspel.
Daarnaast is de Gouda kaasmarkt natuurlijk een must! Dit historische schouwspel kunt u van april tot en met augustus elke donderdagochtend van 10 tot 13 uur bewonderen (behalve op Hemelvaartsdag). U ziet hoe de kazen op traditionele wijze met 'brikken' worden aan- en afgevoerd en net als vroeger doen de boeren en handelaren voor de Waag handjeklap om de beste kazen. In het schitterende pand, de Goudse Waag, kunt u dan gelijk het Kaas- en Ambachtenmuseum bekijken en ontdekken hoe die heerlijke Goudse kaas nu eigenlijk werd gewogen en gemaakt.
In december viert Gouda ieder jaar het beroemde lichtfeest, Gouda bij Kaarslicht. Duizenden bezoekers genieten dan van vele kerstkoren terwijl de ramen van het Stadhuis en de andere monumentale gebouwen aan de Markt zijn verlicht met duizenden kaarsen. Het hoogtepunt van de avond is het ontsteken van de duizenden lichtjes op de Markt. Magisch mooi!
Naast prachtige historie, kunt u ook lekker winkelen in de Goudse straatjes. Van bekende winkelketens en authentieke boetiekjes tot unieke cadeauwinkels, kaaswinkeltjes en ateliers met stijlvolle sieraden.
Waar kunt u lekker eten in Gouda?
U vindt in Gouda vele leuke restaurants en gezellige terrassen. Een aanrader is restaurant Brunel (adres: Hoge Gouwe 23) waar u met mooi weer kunt eten op het terras onder de historische visbanken. Ook lekker is Zalm aan de Markt 34. U geniet hier van uitzicht op het historische marktplein. Tenslotte is het Museumcafé (adres: Achter de Kerk 14) in de romantische binnentuin van Museum Gouda heerlijk voor een lunch, een high-tea of zelfs een Goudse 'high-cheese'.
Tip van de redactie:
Wilt u de binnenstad met de verborgen hofjes en steegjes van Gouda écht ontdekken, maak dan eens een stadswandeling met een gids, of koop de wandelroute "Op pad in Historisch Gouda" bij VVV Gouda.
Meer in Gouda
Bekijk de eeuwenoude traditie van kaashandelen in Gouda.

Read more

Gouda bij Kaarslicht is een kerstfeest dat ieder jaar met kaarsen en festiviteiten gevierd wordt.

Read more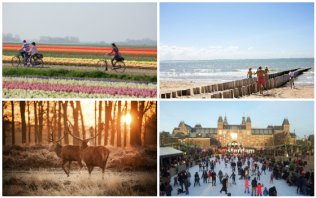 Holland is beautiful in all seasons. Find the best holiday tips for spring, summer, autumn and winter.
Read more
More in this region
Discover the nineteen splendid windmills that have been declared UNESCO world heritage.

Read more

Discover the centuries old cheese trading tradition in Gouda.

Read more

The largest windmills in the world.

Read more

Thermen Holiday: an oasis of peace near Rotterdam.

Read more

Take a boating trip through the old harbours, spend a night in a water tower and cycle along Biesbosch creeks.

Read more

Fresh fish from the rivers around the city has been a part of Dordrecht's menus for centuries.

Read more

Marvel at fine art and Golden Age charm at this impressive museum

Read more
Our recommendations for more Holland information
Beaches, flower-bulb fields and royal feasts: Holland celebrates spring outdoors!

Read more

Undoubtedly one of the jewels of Europe, and not just because of the stunning 17th century canals. Go find out for yourself!

Read more

Book your hotel in Holland well in advance. Check out the most popular places here.


Read more

Holland is the ultimate destination for cycling thanks to its flat landscape, mild climate, short distances and wonderful infrastructure.

Read more