History of Delft Blue
6669 Views
Delft Blue is the world-famous earthenware that has been produced in the city of Delft since the 17th century. Between 1600 and 1800, this earthenware was popular among rich families who would show off their Delft Blue collections to one another. Although the Delftware potters preferred to call their earthenware "porcelain", it was only a cheaper version of the real Chinese porcelain. Delft Blue was not made from the typical porcelain clay, but from clay that was coated with a tin glaze after it was fired. In spite of this, Delft Blue achieved unrivalled popularity, and at its peak, there were 33 factories in Delft. Of all of these factories, the only one remaining today is Royal Delft.
Rise of Delft Blue
Various trends in earthenware may be observed throughout the centuries. In 1550, Majolica earthenware from Spain and Italy was the trend. Many potters in Antwerp copied the popular earthenware until they were forced to flee the city from Spanish conquerors in 1585. The potters regrouped in Delft, where they concentrated on reproducing the latest trend, Chinese porcelain, starting in 1602. From that time onward, the city of Delft has been inextricably linked to Delft Blue earthenware.
Delft Blue today
Between 1600 and 1800, Delft was one of the most important earthenware producers in Europe. The Delft Blue earthenware was immensely popular, and was collected by rich families throughout the world. Unfortunately, for many potters, Delft Blue also went out of fashion, and one by one, they had to close their doors. The only one that has remained in operation since 1653 is de Koninklijke Porceleyne Fles, known as Royal Dutch, a company that continues to produce the Delft Blue pottery according to the traditional methods. Other locations in and around Delft where visitors can see the earthenware are De Delftse Pauw and in the many souvenir shops around the central market square (Grote Markt) in Delft.

What's nearby
Show on map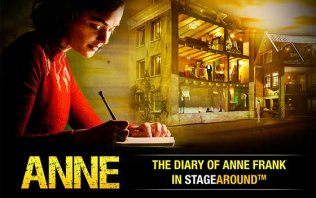 See ANNE in Theater Amsterdam! A unique play, translated into 8 languages, about the life of Anne Frank.
Read More
More in this city
Delft City Hall is one of the city's landmarks.

Read More

Explore Delft and its surroundings with this bicycle itinerary across Delftse Hout.

Read More

Delft is the City of Orange in Holland. The relationship between Delft and the Royal Family goes back centuries.

Read More

Experience a day in Delft with an itinerary that includes all the highlights and a wealth of tips.

Read More

Discover the best restaurants, lunchrooms and culinary delights in Delft.

Read More

With 7000 plants, the Botanical Garden of Delft University of Technology is the greenest place in Delft.

Read More

Delft is a city full of surprises. Discover the best-kept secrets of the city here.

Read More

Delft University of Technology campus boasts several remarkable architectural works.

Read More

Pubs, open-air terraces, clubs and a great deal of students: nightlife in Delft has lots to offer.

Read More

Delft University of Technology allows children to play with science at Science Centre Delft.

Read More

The most attractive streets, the best shops, all of it in a pedestrian district.

Read More

Find some souvenirs and buy the best food at the lovely markets in Delft.

Read More

The canals of Delft served as defense and lifelines throughout the city.

Read More

For centuries, the exclusive, hand-painted Delft earthenware has been made in this unusual factory.

Read More

Visit the only Delft earthenware factory remaining from the 17th century in Delft.


Read More

Living quarters of William of Orange.

Read More

An eye-catcher in the historical heart of Delft.

Read More

An important church for the Dutch Royal House.

Read More
Our recommendations for more Holland information
Winter in Holland is magical and we like to make things extra warm and cosy during the dark days of the year. Therefore we selected the best best tips for you; from New Year's Eve in Amsterdam, the best ice-skating rinks, christmas shopping and many more.

Read More

Undoubtedly one of the jewels of Europe, and not just because of the stunning 17th century canals. Go find out for yourself!

Read More

Hotels in special locations, luxurious or low-budget. Book your hotel room at attractive rates here.


Read More

Holland is the ultimate destination for cycling thanks to its flat landscape, mild climate, short distances and wonderful infrastructure.

Read More