Holland's skating tradition
Holland's skating tradition
Ulrike Grafberger, Tuesday, March 5, 2013, 737 Views
It's strange: in a country known for its maritime climate and the mild winters associated with it, skating is one of the most popular sports. Although people settle for artificial ice and ice rinks, the Dutch, however, find true happiness on natural ice: on frozen canals, lakes and ponds, streams and channels.
So where does this love of ice and silver blades come from? I go looking for it and discover that there is even a schaatshistoricus in Holland, an historian whose specialism is the history of ice skating. His name is Marnix Koolhaas, and he willingly and kindly provides me with information.
Ice skating as a popular pastime
According to Marnix Koolhaas, one of the reasons for the Dutch enthusiasm for ice skating lies in the Reformation: "When Calvinism was on the rise in Holland in the 16th century, many Catholic festivals were abolished, including Carnival. Ice skating took the place of these festivals. People felt free and independent on the ice, and were able to escape for a short time from the strict standards and laws. The festivals then started taking place on the ice."
And Marnix told me something else: "In Holland, there was what was referred to as verzuiling, the  ´pillarising´ of society – categorizing citizens under separate so-called ´pillars´. Both private and social life were played out in a person´s own 'pillar' (Protestant, Catholic, Social-Democratic or liberal). This is why, even today, there is still a Catholic football club in Amsterdam. Only ice skating was never pillarised. All are equal on the ice – regardless of which religious community or political party they belong to. And so there's no Catholic ice skating club either." You have fun on the ice and feel free – that makes sense to me. There's another reason, however, why the Dutch have ice skating in their blood. Not only can you do pirouettes on skates, but you can also cover longdistances
Going to visit Grandma and Grandpa, using a mop
Why does ice skating play such a major role in Holland? My mother-in-law is Frisian, not an East Frisian, but a Dutch Frisian. And she should know something about it, it's true, because the world-renowned Eleven Cities Tour, i.e. the tour on ice skates through eleven Frisian towns, passes more or less right past the door to her house. She told me the following story from her childhood: "As soon as we were able to walk, we children had to be put on the ice. In those days we still had wooden runners with a piece of iron underneath. It was very important for us at that time to be able to move about on the ice. We only had one bicycle in the family, and when we wanted to visit relations, we sometimes had to cover a distance of five kilometres. That's some journey, particularly for children. When I was six years old, we used to visit Grandma and Grandpa in the winter by travelling over a frozen canal. My parents took the mop and removed the attachment with the fringes so that only the stick was left. With it we went onto the ice. Mum and Dad skated on ahead, holding the stick at one end while I held on to the other. And when I was no longer able to keep skating myself, I simply let myself be pulled along."
"Als het vriest, smelten de Hollanders en de Friezen"
Marnix bevestigt het verhaal van mijn schoonmoeder:
"In de winter, als het water bevroor, voelde iedereen die geen zeilboot of paard had zich echt vrij."
Het sociale leven en de familiebanden kwamen in Holland pas echt tot leven wanneer de natuur zijn winterslaap in ging.
En vandaag de dag? Als je de Hollanders op het ijs ziet, is het op hun gezicht af te lezen: pure lol en vrijheid. Zelfs de jongsten scheren over het ijs. En wie weet, misschien komt er weer snel een winter waarin we over het ijs bij oma op bezoek kunnen.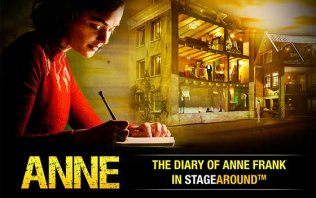 See ANNE in Theater Amsterdam! A unique play, translated into 8 languages, about the life of Anne Frank.
Read More
Our recommendations for more Holland information
Winter in Holland is magical and we like to make things extra warm and cosy during the dark days of the year. Therefore we selected the best best tips for you; from New Year's Eve in Amsterdam, the best ice-skating rinks, christmas shopping and many more.

Read More

Undoubtedly one of the jewels of Europe, and not just because of the stunning 17th century canals. Go find out for yourself!

Read More

Hotels in special locations, luxurious or low-budget. Book your hotel room at attractive rates here.


Read More

Holland is the ultimate destination for cycling thanks to its flat landscape, mild climate, short distances and wonderful infrastructure.

Read More