Covering an area of 1100 m2, the IJsselmeer is the biggest lake in Holland. What is special about the lake is that it used to be the Zuiderzee (South Sea) and was closed off by a man-made dyke, the Afsluitdijk. The lake is fed by several rivers, including the Amstel, the Rhine, the Vecht and the IJssel.
Afsluitdijk
The Afsluitdijk or 'closing dyke' is a 32 kilometre embankment that closes off the IJsselmeer lake from the Wadden Sea. The road on the Afsluitdijk connects the provinces of Friesland and Noord-Holland. At low tide the water in the Wadden Sea drops below the water level in the IJsselmeer. Water is then run off through the Stevin sluices in Den Oever and the Lorentz sluices in Kornwerderzand.
Water sports
The IJsselmeer is used for transport and fishing but it is also popular for water sports. And the lake supplies tap water for Groningen and Friesland. The lake itself and the many typically Dutch scenes around the IJsselmeer are well worth a visit.
Our recommendations for more Holland information
Vibrant festivals, royal art, canal tours and picnics: enjoy the summer in Holland!

Read More

Undoubtedly one of the jewels of Europe, and not just because of the stunning 17th century canals. Go find out for yourself!

Read More

Hotels in special locations, luxurious or low-budget. Book your hotel room at attractive rates here.


Read More

Holland is the ultimate destination for cycling thanks to its flat landscape, mild climate, short distances and wonderful infrastructure.

Read More
What's nearby
Show on map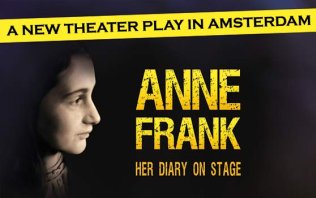 See ANNE in Theater Amsterdam! A unique play, translated into 8 languages, about the life of Anne Frank.
Read More