Kennemer Duincampings
1048 Views
Kennemer Duincampings
De Noord-Hollandse Kennemer Duincampings hebben bijzondere accommodaties zoals een beachlodge of een hobbitwoning.
Read more
De Kennemer Duincampings liggen midden in de Noord-Hollandse duinen vlak bij de kust.
Drie campings aan de kust
Er zijn drie Kennemer Duincampings: Bakkum bij Castricum aan Zee, Geversduin bij Castricum en De Lakens bij Bloemendaal aan Zee. Op de campings zijn verschillende accommodaties waar u kunt verblijven. Naast uitgebreide kampeerplaatsen met uitzicht op het bos of midden in een duinpan zijn er ook huisjes en tenten te huur.
Strand, zee en duinen
Duincamping Bakkum ligt midden in het uitgestrekte Noord-Hollands Duinreservaat, op slechts 1500 meter van het strand. Het omringende, beschermde duingebied leent zich bij uitstek voor heerlijke wandelingen en fietstochten. Camping Geversduin ligt iets verder van het strand af. Camping De Lakens ligt in het glooiende duinlandschap bij Bloemendaal aan Zee.
Strandhuisje of hobbitwoning, bungalow of tent
Op de Kennemer Duincamping Bakkum zijn strandhuisjes, tenthuisjes, een duinlodge of kampeerbungalow te huur. In Geversduin kunt u overnachten in een hobbitwoning voor het hele gezin. De hobbitwoning heeft ronde ramen, ronde deuren en ligt als het ware onder een heuvel. Op camping De Lakens kunt u verblijven in een Airstream, beachlodge of kampeerbugalow.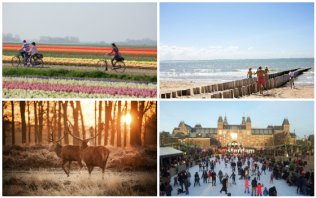 Holland is beautiful in all seasons. Find the best holiday tips for spring, summer, autumn and winter.
Read more


Our recommendations for more Holland information
Beaches, flower-bulb fields and royal feasts: Holland celebrates spring outdoors!

Read more

Undoubtedly one of the jewels of Europe, and not just because of the stunning 17th century canals. Go find out for yourself!

Read more

Book your hotel in Holland well in advance. Check out the most popular places here.


Read more

Holland is the ultimate destination for cycling thanks to its flat landscape, mild climate, short distances and wonderful infrastructure.

Read more