Keukenhof
50231 Views
March 24, 2016 - May 16, 2016
Keukenhof is the world's most beautiful spring park.  Seven million flower bulbs make for a unique experience.
Visit the world's most beautiful spring park.
See more than seven million flowering bulbs at Keukenhof.
Keukenhof is just a 30-minute drive or less away from The Hague, Haarlem, Delft and Amsterdam.
Tulips from Holland are world famous. If you want to see the Dutch tulip fields in bloom, you should visit Holland in April and May. This is the same period in which the biggest flower park in the world, Keukenhof, opens its doors.
Keukenhof is a park where more than 7 million flower bulbs are planted every year. Gardens and four pavilions show a fantastic collection of: tulips, hyacinths, daffodils, orchids, roses, carnations, irises, lilies and many other flowers. You will be overwhelmed by a spectacle of colors and perfumes.
Tulips in Holland
Keukenhof includes many gardens and four grand pavilions that show the most magnificent flowers you can imagine. Every year, Keukenhof creates a complete new look according to a central theme. Everywhere you look are tulips and other flowers. Though the park is only opened 8 weeks a year it attracts around 800.000 visitors each year. It is without a doubt the best place to see tulips in Holland.
Holland and Flowers
Keukenhof is unique in the world and an unforgettable experiences for people of all ages. Unfortunately, the park is only open 8 weeks a year. You can reach Keukenhof within half an hour from The Hague, Haarlem, Leiden, Delft and Amsterdam. However, traffic is problematic around Keukenhof during the opening weeks. A great alternative is to stay in Zandvoort, Noordwijk or Leiden and reach Keukenhof by bike. You will cycle along the tulip fields and enjoy the unique Dutch landscape.
Two more tips! If you want to have a really flowery day out, you should combine a visit to the Keukenhof with the Flower Parade in April. Save time and money and order your tickets ahead online.

What's nearby
Show on map
Address:
Stationsweg 166a
2161AM Lisse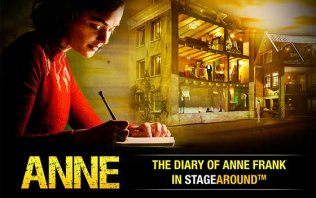 See ANNE in Theater Amsterdam! A unique play, translated into 8 languages, about the life of Anne Frank.
Read More
Our recommendations for more Holland information
Winter in Holland is magical and we like to make things extra warm and cosy during the dark days of the year. Therefore we selected the best best tips for you; from New Year's Eve in Amsterdam, the best ice-skating rinks, christmas shopping and many more.

Read More

Undoubtedly one of the jewels of Europe, and not just because of the stunning 17th century canals. Go find out for yourself!

Read More

Hotels in special locations, luxurious or low-budget. Book your hotel room at attractive rates here.


Read More

Holland is the ultimate destination for cycling thanks to its flat landscape, mild climate, short distances and wonderful infrastructure.

Read More