Liberation Route
1901 Views
Liberation Route
Read More
Liberation Route

In order to liberate Holland, the allies launched Operation Market Garden in September 1944. Despite many airborne landings, their advance came to a halt at Arnhem. The Veluwe was in for a rough winter as the German occupying forces did not surrender until May 1945. Soldiers and civilians took part in a roulette game of life and death, of sorrow and happiness. The Liberation Route lets you experience what happened in and around Arnhem, Nijmegen and the Veluwe in 1944 and 1945. There are 48 boulders located at various locations throughout the region, the so-called listening locations. You can listen to an audio report at each location about the impressive experiences of one or more persons during '44-'45. You can download those stories for free at the Liberation Route's website
Airborne Museum 'Hartenstein'
For the famous Battle of Arnhem visit the Airborne Museum 'Hartenstein'. Listen to  moving stories told by British, Polish and German war veterans and the testimony of civilians. Authentic documents, films, photographs and other objects are on display in the museum, a now beautifully renovated building that the Alies used as their headquarters during the battle. And don't miss the Airborne Experience in the underground area, where history comes alive and the dramatic events are brought startlingly close.

National Liberation Museum 1944-1945
Shaped like a parachute, the National Liberation Museum 1944-1945 commemorates all the dead Allied fighters. Visitors are guided through the prelude to the War, experience the period of occupation, celebrate the liberation and are shown the rebuilding of the Netherlands and Europe. The liberation is depicted in an exhilarating way through smell, interactive presentations, dioramas, models, original films and audio fragments. The museum shows young and old the actual meaning of democracy, freedom and human rights.
For more information please go to www.liberationroute.com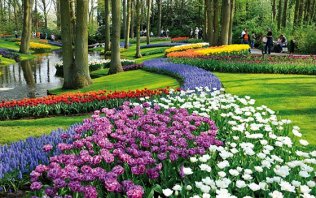 The best place to see tulips in Holland is Keukenhof. Keukenhof is a park with 7 million flower bulbs surrounded by tulip fields.
Read More
Our recommendations for more Holland information
Vibrant festivals, royal art, canal tours and picnics: enjoy the summer in Holland!

Read More

Undoubtedly one of the jewels of Europe, and not just because of the stunning 17th century canals. Go find out for yourself!

Read More

Hotels in special locations, luxurious or low-budget. Book your hotel room at attractive rates here.


Read More

Holland is the ultimate destination for cycling thanks to its flat landscape, mild climate, short distances and wonderful infrastructure.

Read More