Living Statues Arnhem
1539 Views
September 26, 2015 - September 27, 2015
The art of standing still! These unique living statues will surprise and delight you. The best living statue acts from around the world convene in Arnhem every year.
Visit the historic town of Arnhem during the Living Statues Festival.
Watch the world's best living statues and pick your own world champion.
The World Statues Festival is an extraordinary event held annually in Arnhem's inner city. It is one big party with over 200 living statues and plenty of street theatre. The street artists, dressed and made up to look like spectacular statues, flock to Arnhem from around the world. The festival is considered the semi-official world championship in the living statues universe.
Living art
The statues play a beautiful game and will leave you open-mouthed with amazement. Although a small movement here and there is allowed as part of the act, the skill is mainly in standing totally still. A work may consist of multiple figures and attributes and an entourage are allowed.
Statues by Night
Another special event is the Statues by Night show, with a walking route leading you through the beautiful city centre of Arnhem and past the many wonderful living statues. Combine your visit to the World Statues Festival with other great highlights in Arnhem, such as Nature Reserve De Hoge Veluwe, The Nederlands Openluchtmuseum (open-air museum) and dozens of attractive shopping streets.
What's nearby
Show on map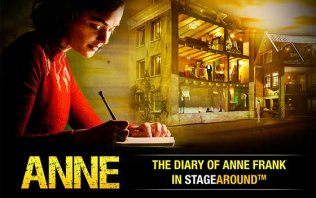 See ANNE in Theater Amsterdam! A unique play, translated into 8 languages, about the life of Anne Frank.
Read More
More in this city
Enjoy dinner at the best restaurants in Arnhem.

Read More

Unique Memorial Route along historic milestones in the history of Holland.

Read More

The Airborne Museum in Oosterbeek is dedicated to "Operation Market Garden."

Read More

Explore the history of the Eusebius Church in Arnhem.

Read More

Visit the beautiful Bronbeek estate and explore the colonial past of Holland.

Read More

Bike or take a hike through the natural areas surrounding Castle Doorwerth, and try to wrap your arms around the 7-meter (almost 23 ft.!) circumference of the oldest tree in Holland.

Read More

Buy clothing directly from the designers in the Fashion District.

Read More

Get to know the world of water like you never did before.

Read More

The Open Air Museum brings Dutch history back to life.

Read More

One of the best modern art collections of the Netherlands.

Read More

A trip through different eco-displays.

Read More
Our recommendations for more Holland information
Winter in Holland is magical and we like to make things extra warm and cosy during the dark days of the year. Therefore we selected the best best tips for you; from New Year's Eve in Amsterdam, the best ice-skating rinks, christmas shopping and many more.

Read More

Undoubtedly one of the jewels of Europe, and not just because of the stunning 17th century canals. Go find out for yourself!

Read More

Hotels in special locations, luxurious or low-budget. Book your hotel room at attractive rates here.


Read More

Holland is the ultimate destination for cycling thanks to its flat landscape, mild climate, short distances and wonderful infrastructure.

Read More