Mudflat Walk Tips
2297 Views
Mudflat Walk Tips
If you are brave enough to hike the Dutch mudflats, than you need to come prepared.
Read more
If you are brave enough to hike the Dutch mudflats, than you need to come prepared.
Equipement
proper fitting shoes (preferably high-top ones) and wool socks
shorts or tracksuit bottoms/leggings (jeans are definitely a no no!)
warm sweater, jacket(windproof), woolen hat/hood and scarf, plus gloves
backpack with a the following packed in a watertight compartment: dry clothes to put on after the hike, towel and plenty of food and drink (no alcohol)
sunglasses and suntan lotion
Mud walking can only be carried out in good weather conditions. Usually, the organization will decide the day before the hike whether the mud walk will take place. To avoid disappointments, it is best to call the organizers the day before your walk, preferably after 6:30 p.m., to check whether the walk is going to go ahead or not. Be prepared, if the weather conditions are bad, the hike will most likely be cancelled.
Organizations
For more information, or a schedule of the starting times of the mud walks, you can contact one (or more) of the organizations below:
Dijkstra's Wadlooptochten
Hoofdstraat 118
9968 AH Pieterburen
Tel. +31 (0)595-528345
Fax +31 (0)595-528605
info@wadloop.nl
www.wadloop-dijkstra.nl  
Wadloopcentrum Fryslan
Postbus 9
9150 AA Holwerd
Mudwalks to Engelsmanplaat: Tel. +31(0) 519 242 100
Mudwalks to Ameland: Tel. +31(0) 519 561 656
Mudwalks to Schiermonnikoog, Simonszand and Rottumeroog: Tel. +31 (0)512 540 747
www.wadlopen.net
Stichting Wadloopcentrum Pieterburen
Postbus 1
9968 ZG Pieterburen
Tel: +31 595 528 300
E-mail: info@wadlopen.com
www.wadlopen.com
Beleef Pieterburen
9986 AG Pieterburen
Tel: +31 595 528 203
E-mail: info@Waddenweelde.nl
www.beleef-pieterburen.nl
Find out what's nearby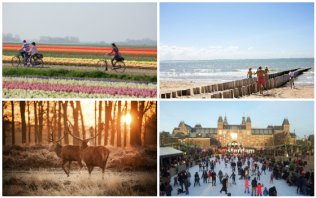 Holland is beautiful in all seasons. Find the best holiday tips for spring, summer, autumn and winter.
Read more


Our recommendations for more Holland information
Winter in Holland is magical and we like to make things extra warm and cosy during the dark days of the year. Therefore we selected the best best tips for you; from New Year's Eve in Amsterdam, the best ice-skating rinks, christmas shopping and many more.

Read more

Undoubtedly one of the jewels of Europe, and not just because of the stunning 17th century canals. Go find out for yourself!

Read more

Hotels in special locations, luxurious or low-budget. Book your hotel room at attractive rates here.


Read more

Holland is the ultimate destination for cycling thanks to its flat landscape, mild climate, short distances and wonderful infrastructure.

Read more