Muiderslot Castle
149 Views
Muiderslot
Read More
Medieval Castle
The country's most famous medieval castle is the Rijksmuseum Muiderslot in Noord-Holland's Muiden. This stronghold on the estuary of the Vecht was built around 1280 by Count Floris V, but in 1296 it was destroyed by Bishop Willem van Mechelen. In 1370 a new castle was built on the remains of the old one, which remains in perfect condition to this day, 600 years later.
P.C. Hooft
The Muiderslot has served as a courthouse, national prison, and the official residence of its castellans. One of the most famous such castellan (or castle constable) was the writer and poet P.C. Hooft, who lived there from 1609 to 1674. During his time the Muiderslot was the apex of science and art, serving as a meeting place for leading citizens known as the Muiderkring.
Visit Muiderslot Castle and its gardens

The Muiderslot, surrounded by a splendid castle moat, is furnished and decorated with art and everyday objects from the time of Hooft. The castle is open to visitors for a great part of the year. The herb garden, too, is certainly worth a visit.
What's nearby
Show on map
Address:
Herengracht 1
1398AA Muiden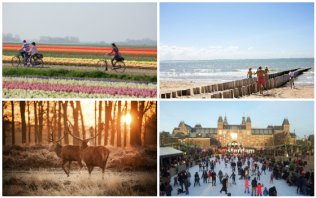 Holland is beautiful in all seasons. Find the best holiday tips for spring, summer, autumn and winter.
Read More
Our recommendations for more Holland information
Beaches, flower-bulb fields and royal feasts: Holland celebrates spring outdoors!

Read More

Undoubtedly one of the jewels of Europe, and not just because of the stunning 17th century canals. Go find out for yourself!

Read More

Hotels in special locations, luxurious or low-budget. Book your hotel room at attractive rates here.


Read More

Holland is the ultimate destination for cycling thanks to its flat landscape, mild climate, short distances and wonderful infrastructure.

Read More