Nieuwe Kerk Amsterdam
1234 Views
The Nieuwe Kerk literally means 'new church', but is not very new at all. This church is no less than 600 years old. In spite of its age and everything it had to go through in the past centuries the church still stands proudly. It is located right next to the Royal Palace on Dam Square.
The Nieuwe Kerk was built in the 15th century. To be exact: on 15 November 1408 the bishop of Utrecht gave his approval for the construction of a second parish church. The first parish church, the Oude Kerk, is situated on Oudekerksplein Square. Since this church had been built, Amsterdam's population had increased quite a lot. The ever-increasing wealth made it possible to build a new church.
Fire at the Nieuwe Kerk
Fate was not kind to the church. In 1421 a large part of the city of Amsterdam burnt down. The Nieuwe Kerk also fell victim to this fire. Reconstruction work was carried out until another fire in 1452 did quite a lot of damage. However, it is not like the people of Amsterdam to lose heart. The final result is a beautifully ornamented church which does the city proud.
The bell tower
It is quite amazing that the iconoclastic fury of 1566 did not affect the church. However, in 1578 the Presbyterians claimed the building. They were averse to frills and did away with the statues and altars which had decorated the church for so long. The church survived another fire in 1645. Unfortunately, the building of the new City Hall overshadowed reconstruction. As a result, the church did not get a bell tower. The Nieuwe Kerk had to make do with three small clocks which were mounted in the tower, on the spot where the roofs cross.
What's nearby
Show on map
Address:
Dam
Amsterdam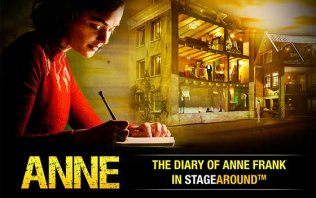 See ANNE in Theater Amsterdam! A unique play, translated into 8 languages, about the life of Anne Frank.
Read More
More in this city
8 days of sailing and cycling on and around the gorgeous IJsselmeer lake.

Read More

8 days of sailing and cycling through the splendid Hanseatic towns along the IJssel river.

Read More

5 days of biking and boating in Amsterdam and the surrounding area.

Read More

8 days of sailing and cycling through beautiful Zuid-Holland.

Read More

8 days of sailing and cycling through the Green Heart of Holland.

Read More

8 days of sailing and cycling through gorgeous Noord-Holland.

Read More

5 days of sailing and cycling through colourful and flower-full Holland.

Read More

Discover how the Frank family and other people lived in hiding during the occupation of Holland.

Read More

Anne Frank became famous through the diaries that she kept during the occupation of Holland.

Read More

Visit Theater Amsterdam and make the play ANNE the centrepiece of a great evening out.

Read More

Read more about Anne Frank's life and the time she spent in hiding.

Read More

9-day cycling holiday through Van Gogh's childhood region, including the Kröller-Müller and Van Gogh museums.

Read More

7-day cycling holiday in Noord-Brabant, Van Gogh's birth ground, and a visit to the Amsterdam Van Gogh Museum.

Read More

The easiest and serviceable way for traveling to and across Amsterdam.

Read More

See the completely new presentation of the Van Gogh Museum's permanent collection.

Read More

Cycle through the fantastic tulip fields, visit the Keukenhof and Aalsmeer flower auction.

Read More

Cycle through the beautiful tulip fields, visit Keukenhof and the historic cities of Delft and Leiden.

Read More

Mesmerizing contemporary art and photography

Read More

Discover pleasant towns, Zaanse Schans and Keukenhof.

Read More

Amsterdam in summer is filled with cultural highlights and festivals.

Read More

Plan a romantic weekend in Amsterdam.

Read More

Explore Dutch culture and nature on this seven-day cycling holiday.

Read More

Eight days of cycling through Hanseatic towns and traditional fishermen's villages.

Read More

Ride a bicycle through the beautiful cities of Noord-Holland for eight days.

Read More

A great night of theatre improvisaton in Amsterdam's city centre.

Read More

Dutch Highlights: a unique cycling tour around the most beautiful cities and nature in North Holland.

Read More

Explore the best cities in the Randstad on a bicycle as part of the Holland's Pearls cycling tour.

Read More

Explore the wonderful period rooms at the Geelvinck Museum!

Read More

Discover Bitterzoet and see what talent will appear on stage.

Read More

An eccentric, warm atmosphere for a mixed audience.

Read More

Go karting at Silverstone for the real racing experience.

Read More

Club Trouw: solid parties in an industrial setting.

Read More

We explain where, when and what to pay for parking in Amsterdam.

Read More

Public transport makes getting around easy in Amsterdam.

Read More

A lazy dinner or dancing the night away: you can do both at the Supperclub.

Read More

Visit the most (in)famous pubs in Amsterdam.

Read More

Discover the many beautiful works of art and sculptures in Amsterdam.

Read More

Special little shops and welcoming cafés the Amsterdam way – discover the great 9 Straatjes shopping district.

Read More

Discover the best restaurants in Amsterdam.

Read More

Heineken Music Hall… where top artists like to perform.

Read More

Historical buildings are given a new buzzing life

Read More

Amsterdam is at its most beautiful seen from the water.

Read More

Melkweg, the multidisciplinary sibling of Paradiso.

Read More

The most famous bridge in Amsterdam: de Magere Brug.

Read More

Discover more than 4,000 plant species at the Hortus Botanicus.

Read More

Discover the canal district's rich history at the beautiful Grachtenhuis.

Read More

Visit the renovated DeLaMar theatre near the Leidseplein.

Read More

The Amsterdam Arena: football stadium and music stage.

Read More

Amsterdam has excellent fashion shops for every budget.

Read More

Discover the best department stores and shopping centres in Amsterdam.

Read More

Visit House of Bols and explore the story of the world's oldest distillery.

Read More

Bliss at Spa Zuiver in the Amsterdamse Bos.

Read More

The Amsterdam Tulip Museum traces the history of the tulip.

Read More

In Amsterdam, visit multiple cheese shops and taste the flavors of different regions of Holland.

Read More

The Houseboat Museum in Amsterdam was created due to curious visitors' questions.

Read More

Renting a bicycle for your stay in Amsterdam may be the most cost-effective and fun way you can see the city.

Read More

The Cobra Museum in Amstelveen ensures that the avant-garde art movement CoBrA is kept alive.

Read More

Museum Van Loon is the former residence of a family of regents in Amsterdam. The home is a living museum with a great art collection.

Read More

Cinemas, discos, theaters and a casino are located right on the square or within easy walking distance.

Read More

In contrast with the old days the Dam is now a peaceful square which is home to scores of pigeons and street artists.

Read More

For lovers of art! Every Sunday from March through December an open-air sales exhibition is organized on Spui Square.

Read More

Combine the Amsterdam canals and the city's famous bikes. Hop on a water bike and pedal through the canals.

Read More

Join hundreds of skaters during the Friday Night Skate in Amsterdam and enjoy some of the best skate spots of Amsterdam.

Read More
Our recommendations for more Holland information
Winter in Holland is magical and we like to make things extra warm and cosy during the dark days of the year. Therefore we selected the best best tips for you; from New Year's Eve in Amsterdam, the best ice-skating rinks, christmas shopping and many more.

Read More

Undoubtedly one of the jewels of Europe, and not just because of the stunning 17th century canals. Go find out for yourself!

Read More

Hotels in special locations, luxurious or low-budget. Book your hotel room at attractive rates here.


Read More

Holland is the ultimate destination for cycling thanks to its flat landscape, mild climate, short distances and wonderful infrastructure.

Read More