Noordwijk
A wonderful, versatile seaside resort with a lovely historic centre.
Read more
Noordwijk
Noordwijk is a friendly fishing village that has transformed into a popular beach resort that attracts thousands of visitors each year. The town of Noordwijk is ideal for relaxing at the beach or at one of the numerous restaurants and beach pavilions.
Noordwijk Highlights
The main attraction of Noordwijk is the beach, but that's not the only thing Noordwijk has to offer. Discover the world of satellites and rockets at Space Expo, Europe's first permanent space exhibition. If you're visiting Noordwijk in springtime, you should definitely rent a bike and cycle through the bulb region where millions of tulips color the landscape. See if you can visit the Keukenhof and the Flower Parade.
The Noordwijk Beach
Relax at the beach, wine and dine on and around the boulevard, shop in the historical center and enjoy Noordwijk's notorious nightlife. Noordwijk hosts many events and festivals, especially in the summertime. Find out when they take place at the local tourist information office (VVV).
Find out what's nearby
Address:
De Grent 8
2202EK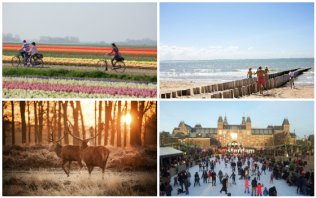 Holland is beautiful in all seasons. Find the best holiday tips for spring, summer, autumn and winter.
Read more


More in this region
Visit the Flower Bulb Region and discover the beautiful colorful fields and Keukenhof

Read more

Sensational rollercoasters and the best swimmingpool in Europe.

Read more

King Willem-Alexander and Queen Máxima live with their family in Villa Eikenhorst in Wassenaar.

Read more

Opt for a beauty treatment package at Azzurro in Noordwijk.

Read more

Space Expo: an educational look at the world of space exploration.

Read more
Our recommendations for more Holland information
Vibrant festivals, royal art, canal tours and picnics: enjoy the summer in Holland!

Read more

Undoubtedly one of the jewels of Europe, and not just because of the stunning 17th century canals. Go find out for yourself!

Read more

Hotels in special locations, luxurious or low-budget. Book your hotel room at attractive rates here.


Read more

Holland is the ultimate destination for cycling thanks to its flat landscape, mild climate, short distances and wonderful infrastructure.

Read more