Panorama Mesdag
12546 Views
Panorama Mesdag
The largest circular canvas in Europe, Panorama Mesdag, doesn't cost much to see and is well worth your time. Try this thrilling trip in space and time to the beach of Scheveningen in 1880.
Read more
Watch the sea, beach, dunes and fishing village Scheveningen, while being in the city of The Hague. The largest circular canvas in Europe, Panorama Mesdag, makes it possible.

Scheveningen in 1880

Panorama Mesdag is an 46-feet-high illusion with a circumference of 395 feet. It was painted by Hendrik Willem Mesdag, his wife and a few friends. It is one of the world's finest, and largest, surviving panoramas.

The panorama brings you back to the year 1880. The beach is full of activity: fishing ships are pulled onto the beach, a military practice is taking place and people are enjoying the sun and the water. You can even spot Mesdag's wife painting at the beach.

Trip in Space and Time

Panorama Mesdag is an experience in space and time, a spectacular illusion that seems to become reality. The museum isn't expensive and a visit only takes half an hour.
Find out more about The Hague or the museums of The Hague.
Find out what's nearby
Address:
Zeestraat 65
2518AA The Hague
Watch this video: Panorama Mesdag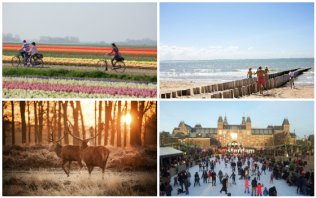 Holland is beautiful in all seasons. Find the best holiday tips for spring, summer, autumn and winter.
Read more
Our recommendations for more Holland information
Autumn is a great season to discover Holland. Enjoy an gourmet weekend in Haarlem or Breda, try out new flavours in the Rotterdam food market

Read more

Undoubtedly one of the jewels of Europe, and not just because of the stunning 17th century canals. Go find out for yourself!

Read more

Hotels in special locations, luxurious or low-budget. Book your hotel room at attractive rates here.


Read more

Holland is the ultimate destination for cycling thanks to its flat landscape, mild climate, short distances and wonderful infrastructure.

Read more