Piet Mondrian
Piet Mondrian is a famous Dutch painter. His yellow, blue and red compositions are admired worldwide. Come and see his Victory Boogie Woogie in The Hague.
Read more
Born: March 7, 1872
Died: February 1, 1944
Field: Painting
Style: Impressionism, Expressionism, Cubism and Neo-Plasticism
Mondrian's greatest works:
Victory Boogie Woogie
Many compositions with primary colors, such as: Composition Yellow, Blue and Red
The life of Piet Mondrian
Pieter Cornelis Mondriaan, better known as Piet Mondrian, was  born in Amersfoort in 1872. He was to become one of the brilliant pioneers of abstract art.
He began his career at the Royal Academy of Visual Arts in Amsterdam in 1892, where he mainly painted landscapes. After his studies, Mondrian experimented with light, color and shape. His earlier work is in accordance with the tradition of the Hague School and Amsterdam impressionists, but around 1909 Mondrian began to paint in a more abstract style.
In 1911, he moved to Paris, where he felt at home amongst abstract and cubist artists such as Picasso and Braque. During World War I, Mondrian painted in Holland. He helped found 'De Stijl' (The Style), an art movement that influenced European painting, architecture, and design. He also began to formulate his own aesthetic theories. He called his style, and its underlying artistic principles, Neo-Plasticism.
During World War II, Mondrian escaped to New York, where he was inspired by the new jazz music and modern art. In 1944, Mondrian was hospitalized with pneumonia and died within days. He never finished his well-known work Victory Boogie Woogie.
The work of Piet Mondrian
Mondrian's work from his pure abstract period are world-renowned. Abstract artists believed that painters, sculptors and architects must work together to build a new world, where people can live in balance with the laws of the universe.
The forms that fit this philosophy had to be clear. Straight lines and corners were used. The surfaces were painted in the primary colors red, blue and yellow and in the non-colors white, gray and black.
All unnecessary shapes and colors were abolished and the works were limited to planes of basic colors divided by absolute horizontal and vertical lines. This universal vision, based on Mondrian's intuition and insight, gave rise to an orderly and balanced beauty. 
Where to find Piet Mondrian
The largest Mondrian collection in the world can be admired at the Municipal Museum The Hague. Visitors can follow the artist's development from his early years in Amsterdam to his final years in New York City. Victory Boogie Woogie, Mondrian's last unfinished painting, is also on display at this museum.
Find out what's nearby
Address:
Stadhouderslaan 41
2517HV The Hague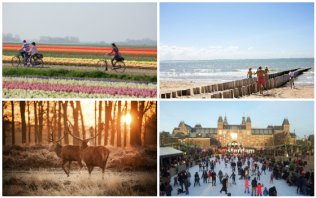 Holland is beautiful in all seasons. Find the best holiday tips for spring, summer, autumn and winter.
Read more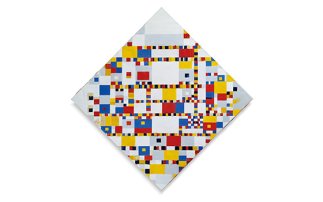 Come and experience the feeling of De Stijl (The Style) and Dutch Design across Holland in 2017.
Read more


Do you like this theme? You might also like:
Our recommendations for more Holland information
Autumn is a great season to discover Holland. Enjoy an gourmet weekend in Haarlem or Breda, try out new flavours in the Rotterdam food market

Read more

Undoubtedly one of the jewels of Europe, and not just because of the stunning 17th century canals. Go find out for yourself!

Read more

Hotels in special locations, luxurious or low-budget. Book your hotel room at attractive rates here.


Read more

Holland is the ultimate destination for cycling thanks to its flat landscape, mild climate, short distances and wonderful infrastructure.

Read more