PSV Philips Stadium
662 Views
PSV Philips Stadium
Read more
PSV Eindhoven football club
PSV stands for Philips Sport Vereniging (Philips Sports Club) and since 1913 PSV Eindhoven football club plays at this sacred ground. The stadium, which is located very close to the centre, can accommodate 36,000 visitors. 
Goal scorers
PSV has a rich history of goal scorers. It's not without reason that a PSV player holds the record for the highest number of league goals scored in one season (Coen Dillen). It is a PSV player who holds the record for highest number of league goals scored ever (Willy van der Kuylen) and Ruud van Nistelrooy played for PSV Eindhoven before joining Manchester United.
Guided tours of the stadium
Guided tours are available if you would like to find out more about the stadium, its football legends and history. The minimum size for a guided tour is ten people. The tour takes approx. one and a half hours.
More information on the PSV Philips Stadium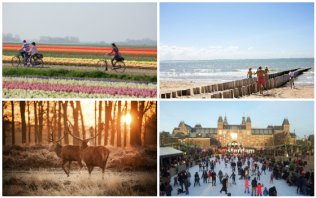 Holland is beautiful in all seasons. Find the best holiday tips for spring, summer, autumn and winter.
Read more