Restaurants in Haarlem
673 Views
Haarlem is filled with establishments that make the taste buds tingle with delight. Only Maastricht has more cafés and restaurants but Haarlem takes the lead among cities located above the great rivers. Its rich culinary experiences are celebrated during 'Haarlem Culinair', an event that is held each year in August. Stop by and enjoy the specialties offered by several restaurants in the city centre.
We have compiled a list of tips to help you navigate your way through the city's overwhelming number of coffee bars, lunchrooms, cafés, restaurants, bakeries, and specialty shops.
Eating in Haarlem
Jopenkerk (Gedempte Voldersgracht 2): The former Jacobskerk church is now occupied by a fully operational brewery, which offers a comprehensive breakfast and lunch, cocktail hour and a rich variety of beers.
Lambermon's (Korte Veerstraat 1): This French-style brasserie is located in the historic city centre and offers an extensive menu. The restaurant has a number of beautiful suites in which you can spend the night.
Truffels (Lange Veerstraat 4): With its top-quality French cuisine, Truffels' cooks serve a new and exciting six-course meal each month at a fair price.
Vis en Ko (Spaarne 96): If you love fish, you should definitely visit the most popular fish restaurant in town.
Restaurant ML (Kleine Houtstraat 70): This restaurant was awarded a Michelin star and will spoil you with delicious food in a beautifully renovated 17th century national monument.
In 't Goede Uur (Korte Houtstraat 1): Everything is about cheese and wine at restaurant In 't Goede Uur. They serve the best cheese fondue combined with a glass of excellent wine.
Café Restaurant Stempels (Klokhuisplein 9): An excellent establishment with an excellent menu. Enjoy the wonderful food at this former printing house.
Hofje zonder Zorgen (Grote Houtstraat 142a): One of the nicest places in Haarlem for breakfast, lunch or high tea.
Grand Café Nobel (Spaarne 36): Choose a spot inside the monumental building or find a table on the terrace by the water. After that, you only need to take your pick from the comprehensive wine, lunch and dinner menu.
Restaurant Zuidam (Scheepmakersdijk 2a): A contemporary restaurant on a historic shipyard with two terraces, which catch the morning and afternoon sun.
Brasserie Van Beinum (Klokhuisplein 3): You will definitely have a good time at Van Beinum, where you can go for a good salad, a juicy burger and fries, or a really good cocktail with some tasty snacks.
Dodici (Smedestraat 47): At Dodici you can order several small dishes which you then share with the rest of your table. Your dinner with friends will turn into a joyful exchange of flavours.
What's nearby
Show on map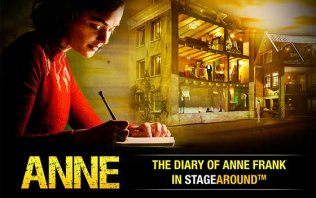 See ANNE in Theater Amsterdam! A unique play, translated into 8 languages, about the life of Anne Frank.
Read More
More in this city
The Toneelschuur is a theatre and cinema under a single roof.

Read More

Haarlem station is an extraordinary building in Art Nouveau style.

Read More

Haarlem's beautiful Stadsschouwburg theatre has a fascinating history.

Read More

Go for a lovely walk through this centuries-old park in Haarlem.

Read More

Discover what the Haarlem hangman, Heart Day and Holland's oldest city hall have in common.

Read More

One of Holland's best and biggest recreational areas is just outside Haarlem.

Read More

Haarlem's beautiful city centre surrounds the extraordinary Sint Bavokerk.

Read More

Haarlem has been voted 'best shopping city in Holland' more than once. Discover why here.

Read More

We reveal Haarlem's secrets to make your visit even better.

Read More

Hop on a bicycle for the ride from Haarlem to the beach. This itinerary takes you to Bloemendaal in 60 minutes.

Read More

Follow this itinerary to discover the most beautiful monuments and main highlights of Haarlem.

Read More

Ride your bicycle through the Bulb Region to the Keukenhof garden park.

Read More

The Philharmonie is the musical centre of Haarlem.

Read More

Find the best cafés, terraces and pop stages in Haarlem for a night on the town here.

Read More

Europe's biggest playground can be found in Holland and is called Linnaeushof!

Read More

Haarlem is a city of courtyards that boasts more than 20 idyllic 'hofjes'.

Read More

Explore the canals of Haarlem and see the old city centre from a different perspective.

Read More

The psychiatry museum opens up the world of mental disorders in a surprising interactive manner.

Read More

The Hoofdwacht, the city's oldest building, provided protection for Haarlem for centuries.

Read More

The museum of modern and contemporary art in the centuries-old Vleeshal in Haarlem.

Read More

Everything is about architecture in Haarlem and surrounding areas.

Read More

The rebuilt Molen de Adriaan windmill sits on the scenic Spaarne River in Haarlem.

Read More

Holland's first and oldest public museum.

Read More

The largest collection of Frans Hals paintings in the world.

Read More
Our recommendations for more Holland information
Winter in Holland is magical and we like to make things extra warm and cosy during the dark days of the year. Therefore we selected the best best tips for you; from New Year's Eve in Amsterdam, the best ice-skating rinks, christmas shopping and many more.

Read More

Undoubtedly one of the jewels of Europe, and not just because of the stunning 17th century canals. Go find out for yourself!

Read More

Hotels in special locations, luxurious or low-budget. Book your hotel room at attractive rates here.


Read More

Holland is the ultimate destination for cycling thanks to its flat landscape, mild climate, short distances and wonderful infrastructure.

Read More