Rotterdam Cube Houses
16600 Views
Cube Houses of Rotterdam
The cubic houses are one of Rotterdam's icons. Visit the cube-shaped houses and notice how they don't fit the usual conventions of a house.
Read More
One of the icons of Rotterdam are the cubic houses. 40 conventional houses were tilted 45 degrees to become the first cube-shaped houses in Holland. The cubes are prominently located in the center of Rotterdam.

Representation of trees  and a wood
Piet Blom designed the cube houses in 1984. His design represents a tree and all houses together make up a wood. Blom's concept was to design a kind of village within a main city, a safe haven in which anything could happen.
Cube House Interior

Experience living in one of Rotterdam's cube houses. Most of the houses are occupied; however, one cube is always open to visitors. You'll notice how the cubic house plays with you, because it doesn't fit the usual conventions of a house.
Find out what's nearby
Address:
Overblaak 70
3011MH Rotterdam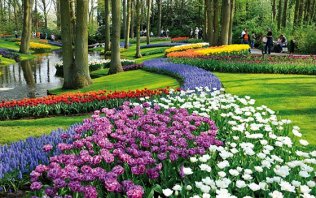 The best place to see tulips in Holland is Keukenhof. Keukenhof is a park with 7 million flower bulbs surrounded by tulip fields.
Read More
Our recommendations for more Holland information
Vibrant festivals, royal art, canal tours and picnics: enjoy the summer in Holland!

Read More

Undoubtedly one of the jewels of Europe, and not just because of the stunning 17th century canals. Go find out for yourself!

Read More

Hotels in special locations, luxurious or low-budget. Book your hotel room at attractive rates here.


Read More

Holland is the ultimate destination for cycling thanks to its flat landscape, mild climate, short distances and wonderful infrastructure.

Read More