Shopping in The Hague
787 Views
The shopping malls are located in the city center around the 'Grote Marktstraat'. More shops are found along the 'Spuistraat', 'Venestraat' and 'Hoogstraat'. While strolling through these streets, don't miss the pleasant vibe of shopping area the 'Haagsche Bluf' and the Passage, the beautiful and oldest shopping arcade in Holland.
Stylish Fashion Boutiques
The 'Denneweg' and 'Frederikstraat' offer a great mixture of haute couture, pleasant boutiques and trendy fashion shops. It's also a splendid place to relax after hours of shopping as it's home to some of The Hague's finest restaurants and lunchrooms.
'Noordeinde' deserves a special mention. What it lacks in fashion, it makes up for in art. This street has the highest 'art density' in Holland and is packed with art galleries and antiques.
Quarters of The Hague
Before you leave The Hague, you  should definitely take some time to wander around the quarter 'Hofkwartier'. The small alleyways are crammed with shops, boutiques, barbers, restaurants, bars, antique stores, interior design shops and many other surprises.
Another surprise of a different caliber is Chinatown. Oriental stores, Asian supermarkets, Chinese restaurants and everything else you would expect to find in China is up for grabs in the heart of The Hague.
There's one more shopping street, 'de Frederik Hendriklaan', which is a little closer to the beach. It's one very long street that, besides some great shops and boutiques, holds a fantastic range of delicatessen stores.
What's nearby
Show on map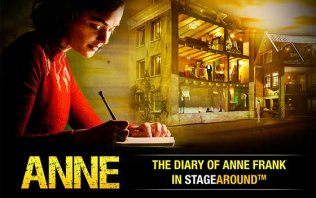 See ANNE in Theater Amsterdam! A unique play, translated into 8 languages, about the life of Anne Frank.
Read More
More in this city
Experience the sailboat races of the year, the fireworks festival and Vlaggetjesdag.

Read More

The best Scheveningen restaurants selected for you.

Read More

Club Onefour is a stylish club in the centre of The Hague.

Read More

Make sure you know where, when and how much to pay for parking in The Hague.

Read More

Discover the many advantages of public transport in The Hague.

Read More

Paard van Troje is the address for a great live act or dance event.

Read More

The Hague has many great districts for a wonderful shopping spree.

Read More

Quench your thirst and stroll to the most famous pubs in The Hague.

Read More

Explore the many beautiful, well-hidden hofjes or courtyards in The Hague.

Read More

Discover the many royal palaces and monuments in The Hague.

Read More

Discover the greatest restaurants in the lovely city of The Hague.

Read More

Discover the best shopping centres and department stores in The Hague.

Read More

The Hague has plenty of fashion shops. Discover the best districts and shops here.

Read More

Get to know The Hague from the water with the Ooievaart; a boat trip on the canals of The Hague.

Read More

No city in Holland has more courtyards than The Hague. Take a walk and discover these hidden courtyards.

Read More

The Louwman Museum features one of the most impressive private car collections in the world.

Read More

Make a small bet at the endurance and trotting horse races held at Duindigt Race Track.

Read More

Theatre Diligentia is the stage in The Hague for cabaret and stand-up comedy.

Read More

Visit the beautiful rose garden and romantic tearoom while your children enjoy the playing field and midget golf course.

Read More

Clingendael is a beautiful estate with a Japanese garden, a tearoom and a playground.

Read More

Grab a picnic basket and find a spot amongst The Hague's inhabitants in Paleistuin park.

Read More

Surf the best waves caused by an artificial reef and meet other surfers in F.A.S.T., the surfers village.

Read More

Books have a new dimension in Museum Meermanno: The Book House.

Read More

The Dr Anton Philips Hall is home to one of Europe's best orchestras, the Hague Philharmonic.

Read More

The Lucent Danstheater is Holland's most beautiful dance theatre and home to the Nederlands Dans Theater.

Read More

The New Church in The Hague is part of the Culture at Spuiplein programme.

Read More

The Hague Market is the biggest market in Europe. 500 stalls sell just about anything you can think of.

Read More

Enjoy wide-screen films in the Omniversum; the only IMAX dome theatre in Europe.

Read More

The Town Hall of The Hague is a striking white building. It is popularly referred to as the Ice Palace.

Read More

Various (inter)national sporting events are organised on the beach of Scheveningen between May and September.

Read More

King Willem-Alexander and Queen Máxima live with their family in Villa Eikenhorst in Wassenaar.

Read More

Huis ten Bosch is a palace in The Hague and the residence of Princess Beatrix.

Read More

The Hague's Koninklijke Schouwburg, or Royal Theatre, is an elegant and historic performing arts venue.

Read More

The most enjoyable and picturesque squares in The Hague.

Read More

Seven centuries of exciting history.

Read More

One of the largest panoramas in the world.

Read More

The working palace of the King Willem-Alexander.

Read More

Scheveningen and the Kurhaus hotel are inseparable.

Read More

The history of The Hague and its inhabitants.

Read More

Become a part of the Dutch political life.

Read More

World's biggest Mondrian collection is presented in a dazzling Art Deco building of Berlage.

Read More

Be surprised by the unbelievable drawings by M.C. Escher.

Read More

Sensational rollercoasters and the best swimmingpool in Europe.

Read More

Beaches, beach clubs, water sports facilities: Scheveningen has it all!

Read More
Our recommendations for more Holland information
Winter in Holland is magical and we like to make things extra warm and cosy during the dark days of the year. Therefore we selected the best best tips for you; from New Year's Eve in Amsterdam, the best ice-skating rinks, christmas shopping and many more.

Read More

Undoubtedly one of the jewels of Europe, and not just because of the stunning 17th century canals. Go find out for yourself!

Read More

Hotels in special locations, luxurious or low-budget. Book your hotel room at attractive rates here.


Read More

Holland is the ultimate destination for cycling thanks to its flat landscape, mild climate, short distances and wonderful infrastructure.

Read More