TEFAF: Shopping for Those with Expensive Taste
TEFAF: Shopping for Those with Expensive Taste
Heather Tucker, Friday, May 3, 2013 , 551 Views
TEFAF: Shopping for Those with Expensive Taste
TEFAF (The European Fine Art Fair) is "the world's greatest art and antiques fair, [where] you can buy masterpieces of art." It is the place to be seen and to buy expensive objects. Whether you prefer to people watch or really want to buy a Corinthian type helmet from the 7th century BC, you will want to add the yearly event to your agenda.
Read more
I'll admit that the first time TEFAF was mentioned to me, I had no idea what it was. It took some time consulting my trusted friend Google to learn that TEFAF (The European Fine Art Fair) is "the world's greatest art and antiques fair, [where] you can buy masterpieces of art." The next question was, what to wear?
With exhibit stands more well-designed than many people's front room, this isn't the place to show up in jeans. You can, but you are likely to feel the odd one out. TEFAF has roots that date back to 1975. The fair, in its current form, presents 260 of the world's leading galleries from twenty countries.
Surrounding the MECC Maastricht, where the event is held, are car parks peppered with license plates from France, Belgium, Germany and countries even further afield. Inside, visitors - many dressed in their Sunday best - strolled from exhibit to exhibit, occasionally stopping for a cocktail. People seem to come to TEFAF for three reasons - to be seen, to see the exhibits and/or to buy something. Mauritshuis, a museum in The Hague, bought a rare Paul Bril oil on copper for approximately $1,143,000 (yes, you read that number correctly).
TEFAF is not for the faint hearted. The moneyed air and posh voices can be enough to intimidate you into a corner (just be careful not to knock over an amber-glazed pottery figure of a horse from the 5th century as you hide) and it's easy to forgot that you are as equally as entitled to observe the items on display as those planning (or with the funds) to actually buy them. But it is well worth summoning up your courage because "amazing" best describes the items you get to see.
To wander through TEFAF is a bit like wandering through something that is part museum and part art gallery. Paintings by Gerrit Dou, Andy Warhol, Andreas Schelfhout and Pieter Holsteyn the Younger hang near ceramic figures from Mexico (circa 450-750 AD), half-armour from around 1590, a Corinthian type helmet from the 7th century BC and a marble bust of a patrician, from Rome circa 130-140 AD.
And while I overheard one young couple talking about how their relatives had been at TEFAF already for several hours and had only completed one small section, I was finished with all of TEFAF within a few hours. After all, the venue was crowded and filled with expensive antiques and artwork. This isn't the type of place that you want to feel the wrath of the "you break it, you buy it"policy.
The dates for TEFAF 2014 have already been set, so if you wish to attend, mark your calendars for March 14-23rd 2014.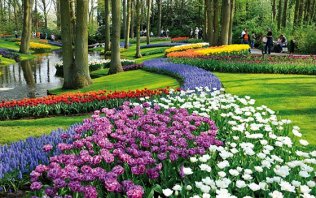 The best place to see tulips in Holland is Keukenhof. Keukenhof is a park with 7 million flower bulbs surrounded by tulip fields.
Read more
Watch this video: Original Dutch Food
Have you ever tried raw herring, apple pie with cinnamon or sauerkraut?
Our recommendations for more Holland information
Vibrant festivals, royal art, canal tours and picnics: enjoy the summer in Holland!

Read more

Undoubtedly one of the jewels of Europe, and not just because of the stunning 17th century canals. Go find out for yourself!

Read more

Book your hotel in Holland well in advance. Check out the most popular places here.


Read more

Holland is the ultimate destination for cycling thanks to its flat landscape, mild climate, short distances and wonderful infrastructure.

Read more