The White House
3823 Views
The White House
The White House of Rotterdam was the first skyscraper in Europe. Build in 1898, the 43-meter-high, art-nouveau structure is a prime example of Dutch architecture. Enjoy a drink in one of the bars on the ground floor.
Read more
'Het Witte Huis' (The White House) in Rotterdam is not a copy of the world-famous white house in Washington. The Dutch White House was the first skyscraper in Europe and was build between 1897 and 1898. It is one of the few structures that survived the 1940 bombings of Rotterdam.
Making the White House
Architect Molenbroek was the daredevil who designed the skyscraper. The White House is 43 meters high and counts ten floors. The style of the building is art-nouveau. It was build with an elevator, which is unique for buildings from that period.
The construction of the White House wasn't  easy; the costs were higher than expected, the nearby port had to be closed for a while and a building next to the construction site collapsed during the engineering of the foundations.
Daring Dutch Architecture
The White House ended up being a beautiful building and an example of daring Dutch architecture. You can visit the White House and enjoy a drink in one of the bars on the ground floor. On one side of the building you can still see some of the damage done to the building during  World War II.
Find out more about culture in Rotterdam or Rotterdam!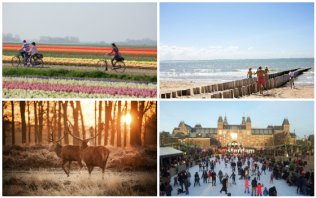 Holland is beautiful in all seasons. Find the best holiday tips for spring, summer, autumn and winter.
Read more
More in this region
Discover the nineteen splendid windmills that have been declared UNESCO world heritage.

Read more

Discover the centuries old cheese trading tradition in Gouda.

Read more

The largest windmills in the world.

Read more

Thermen Holiday: an oasis of peace near Rotterdam.

Read more

Take a boating trip through the old harbours, spend a night in a water tower and cycle along Biesbosch creeks.

Read more

Fresh fish from the rivers around the city has been a part of Dordrecht's menus for centuries.

Read more

Marvel at fine art and Golden Age charm at this impressive museum

Read more
Our recommendations for more Holland information
Beaches, flower-bulb fields and royal feasts: Holland celebrates spring outdoors!

Read more

Undoubtedly one of the jewels of Europe, and not just because of the stunning 17th century canals. Go find out for yourself!

Read more

Book your hotel in Holland well in advance. Check out the most popular places here.


Read more

Holland is the ultimate destination for cycling thanks to its flat landscape, mild climate, short distances and wonderful infrastructure.

Read more