Theater Amsterdam
840 Views
Theater Amsterdam
Read more
Visit Theater Amsterdam and make the play ANNE the centrepiece of a great evening out. Marvel at the spectacular foyer or enjoy a delicious dinner with a view over the IJ River.
Visit the play ANNE and enjoy Theater Amsterdam's many facilities.
Enjoy the innovative techniques and experience a play in a way you never have before.
Make a reservation for lunch or dinner in restaurant Boven de Planken and enjoy a unique view.
Tailor-made
On 8 May 2014, Theater Amsterdam first opened its doors. Not coincidentally, the play Anne premiered on the same day. That is because Theater Amsterdam was built specifically for this play. It was the only way to make it possible to use the unique, enormous sets and the theatrical techniques that make this play so special and unique.
Excellent food with a view over the IJ River
In addition to the unique theatre hall where the play is held, Theater Amsterdam has all the facilities needed for a special night out. Above the theatre, for instance, is a 'floating floor' that houses the excellent restaurant Boven de Planken. Here, you can enjoy a delicious lunch or dinner before or after the show, with a view over the IJ River. The foyer, too, is more than just an entrance hall. At the top of the theatre are the Sky Lounge and the Amsterdam Lounge, for business meetings and events.
Practical information
The theatre is well accessible by public transportation, bicycle and car.
When booking tickets, it is also possible to reserve a lunch or dinner voucher. Making separate reservations for the restaurant is also possible: call 020-7055030.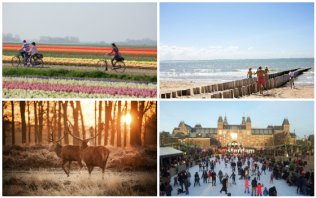 Holland is beautiful in all seasons. Find the best holiday tips for spring, summer, autumn and winter.
Read more
Our recommendations for more Holland information
Beaches, flower-bulb fields and royal feasts: Holland celebrates spring outdoors!

Read more

Undoubtedly one of the jewels of Europe, and not just because of the stunning 17th century canals. Go find out for yourself!

Read more

Book your hotel in Holland well in advance. Check out the most popular places here.


Read more

Holland is the ultimate destination for cycling thanks to its flat landscape, mild climate, short distances and wonderful infrastructure.

Read more