5x dinner in Scheveningen
5x dinner in Scheveningen
1980 Views
5x dinner in Scheveningen
If you are planning a city trip to The Hague or a beach holiday in Scheveningen, you should definitely see the harbour of Scheveningen. It is not just a big fishing harbour; there is also a lovely marina for private yachts. Moreover, it has become a popular nightlife destination.
Read more
If you are in The Hague on a city trip or enjoying a beach holiday in Scheveningen, we highly recommend visiting the harbour of Scheveningen. It is the perfect place for a wonderful meal while enjoying the beautiful view!
Try the best of fish dishes at one of Scheveningen's top five restaurants.
Enjoy a lovely night out with a beautiful view of the harbour of Scheveningen.
5x dinner in Scheveningen
1) Lemon Grass
This excellent seafood restaurant is situated on the harbour. With its wonderful terrace and varied wine menu, this is definitely the place to enjoy a pleasant evening.
Address: Doctor Lelykade 24, Scheveningen
2) The Harbour Club
The Scheveningen marina with its pleasure yachts can be found in the corner of the harbour. Go to the 'Harbour Club' with its excellent fresh fish from around the world. They have everything from sushi to lobster, oysters and tiger prawn, and even serve a mean Black Angus Steak. 
Address: Doctor Lelykade 5, Scheveningen
3) Rootz
For the best Belgian dishes in the harbour of Scheveningen, go to Rootz. This place is located in the Tweede Binnenhaven (second inner harbour) where the fish auctions used to be held. Their menu boasts a range of wonderful Belgian dishes and a broad assortment of beers and wines. As you'd expect, the mussels are extraordinary. We recommend them!
Address: Dr Lelykade 33-37, Scheveningen
4) Restaurant Waterproef
A modern and stylish restaurant with a view of the harbour. The kitchen prepares exciting, flavourful meals with a Mediterranean touch. We highly recommend the wine menu.
Address: Doctor Lelykade 25-27, Scheveningen
5) Catch, by Simonis
With a wonderful view of the Tweede Binnenhaven (Second Inner Harbour), Catch serves the best dishes imagined by the most famous fishmonger in Scheveningen. It has plenty to offer for those who prefer meat, too, but the view puts us personally in the perfect mood for some succulent fish.
Address: Doctor Lelykade 43, Scheveningen
Editors' tip: If you want to go for a quick snack in Scheveningen, we highly recommend Hollandse Nieuwe herring from Simonis, brought in straight from the early morning fish auction and best enjoyed with onions and pickles. A delightful Dutch tradition!
Find out what's nearby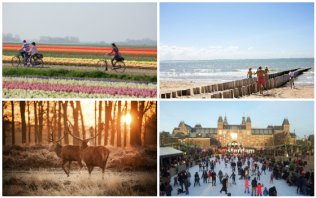 Holland is beautiful in all seasons. Find the best holiday tips for spring, summer, autumn and winter.
Read more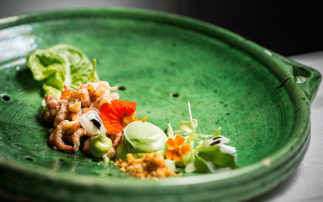 Taste and discover the pure, delicious and honest cuisine of Holland.
Read more