Vincent van Gogh
3018 Views
Vincent van Gogh
The Sunflowers are only some of Van Gogh's masterpieces. His post-impressionist work influenced most of the major art movements of the 20th century.
Read More
Born: March 30, 1853
Died: July 29, 1890
Field: Painting
Style: Post-Impressionism
Van Gogh's greatest works:
Van Gogh's self-portraits
Sunflowers
The Potato-eaters
The Bedroom in Arles
The Starry Night
Irises
The life of Vincent van Gogh
Vincent van Gogh was born in Groot-Zundert in the south of Holland in 1853. He was an art dealer, teacher and preacher before he decided to become a painter in 1880. His first works were very dark, while most great artists of that time used bright colors. When he moved to Paris in 1868 he learned to paint portraits and use color. He made at least twenty self-portraits during this period.
Vincent didn't like the city life and moved to Arles in the Provence in 1888. In these last years of his life he would create many works and most of his masterpieces. However, it was also during this period that he suffered from many inner conflicts and had himself hospitalized. On July 27, 1890, he shot himself in the chest. He died two days later. His brother Theo, who maintained him, inherited his collection.
The work of Vincent van Gogh
Van Gogh became famous for his use of light and color. He spread his paint thickly onto the canvas with heavy brushstrokes or a palette knife. His post-impressionist work influenced most of the major art movements of the 20th century.
During his lifetime, he only sold a few paintings. Today his work is immensely popular and sells for fortunes. The Van Gogh Museum in Amsterdam has 200 canvases, 500 drawings and 750 written documents on display and attracts 1.5 million visitors a year.
Where to find Vincent van Gogh
If you want to learn more about the work, the life and influences of Vincent van Gogh, you should visit the Van Gogh Museum in Amsterdam. It houses an enormous collection of paintings and drawings by Van Gogh and his contemporaries. Another great place is the Kröller-Müller Museum in the Hoge Veluwe National Park, which also owns a stunning collection of works by Van Gogh.
Find out what's nearby
Address:
Museumplein 6
1071DJ Amsterdam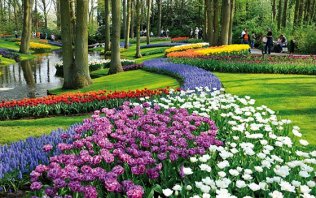 The best place to see tulips in Holland is Keukenhof. Keukenhof is a park with 7 million flower bulbs surrounded by tulip fields.
Read More
Our recommendations for more Holland information
Vibrant festivals, royal art, canal tours and picnics: enjoy the summer in Holland!

Read More

Undoubtedly one of the jewels of Europe, and not just because of the stunning 17th century canals. Go find out for yourself!

Read More

Hotels in special locations, luxurious or low-budget. Book your hotel room at attractive rates here.


Read More

Holland is the ultimate destination for cycling thanks to its flat landscape, mild climate, short distances and wonderful infrastructure.

Read More