Dordrecht is enclosed by rivers. The city has more than a thousand monuments, historical inner-harbors and a great vibe. A walking route, named 'Rondje Dordt', leads you along all the church 'Grote Kerk', the former monastery 'Het Hof, museum 'Huis van Gijn' and numerous antique stores.
Highlights of Dordrecht
Dordrecht owes its wealthy past to its strategic location along three rivers, including the river Meuse. Today you can still sense these prestigious times as you walk through the city. Besides the beautiful inner-harbors, monuments and streets you should spend some time at the Dordrechts Museum. This museum has a superb collection of old masters and is often called the paintings museum. Other highlights are the former monastery 'Het Hof', and the amazing interior of 'Huis van Gijn'. The latter has also won some prestigious awards.
Visit Dordrecht
The best way to discover Dordrecht is by foot, but you can also enjoy the view from water if you take a boat trip. You can also combine your visit to Dordrecht with the nearby National Park De Biesbosch. Last but not least, Dordrecht hosts one of the largest book markets of Holland and the largest Christmas market. Check at the local tourist information office (VVV) when these events take place.
What's nearby
Show on map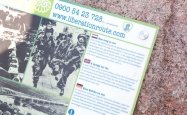 The Liberation Route lets you experience what happened in and around Arnhem, Nijmegen and the Veluwe in 1944 and 1945.
Read More
Book your holiday accommodation
Check out our extensive offers.
2000 holiday homes throughout Holland.
On the coast, in a natural environment or near cities.