Indoor shopping in Utrecht
Indoor shopping in Utrecht
1991 Views
With its beautiful canals, car-free city centre and abundance of great shops, Utrecht is an excellent city for a shopping spree. The weather might be less inviting sometimes, so it's good to know where you can shop and stay dry. We have selected some nice department stores and indoor shopping centres in Utrecht for you.
De Bijenkorf (St Jacobsstraat 1): A beautiful department store that stocks the best brands in fashion, shoes, accessories, kitchenware and furniture.
Hoog Catharijne: Hoog Catharijne is believed to be the biggest shopping centre in Holland. Linked to Utrecht Central Station, it is easily accessible and you will find a shop for everything you need.
V&D (Rijnkade 3): Big, pleasant department store with a wide range of products. From fashion and home to electronics and literature, you can easily spend an hour or more here.
What's nearby
Show on map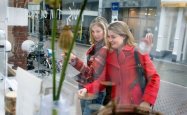 When it comes to shopping, there's more than souvenir shops with clogs, delftware and tulips.
Read More