Celebrate the first King's Day
Celebrate the first King's Day
April 26, 2014
King Willem Alexander's investiture occurred on 30 April 2013. It means that Holland has a king for the First time since 1890! Obviously this wonderful fact has many consequences, one of which is that we will no longer celebrate Queen's Day. From 2014 onwards Holland will be celebrating King's Day.
From Queen's Day on 30 April...
Holland has been celebrating Queen's Day on 30 April since 1949. It was the birthday of Queen Juliana, who acceded to the throne at that time. The date was retained when Beatrix became the queen, particularly because her birthday is on 31 January, which is not a good day for the outdoor festivities that are traditionally associated with Queen's Day.
...to King's Day on 27 April
From 2014 we will be celebrating King's Day on the birthday of King Willem Alexander, which is 27 April. At least, in the years that his birthday is not on a Sunday. And that means that the first King's Day will not be celebrated on 27 April but rather on Saturday 26 April. And we are certain it will be as big a party as ever!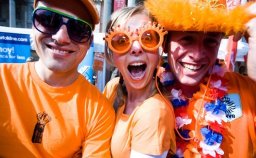 What used to be Queen's Day is now King's Day and is celebrated on April 27, not April 30.
Read More