The capital of the province of Gelderland, Arnhem has a rich and eventful past, partly reflected in a number of monumental buildings. Set in the heart of green surroundings, the town is contained by the Veluwe on one side and the forelands on the other. A visit to the 100-year-old Sonsbeek town park provides the ideal opportunity to take a breather.
Fashion and shopping
Linked with fashion in many different ways by ArtEZ college of Fashion and numerous brands and designers such as G-sus, Viktor & Rolf and Humanoid, Arnhem has ranked the top ten shopping towns in the Netherlands for years. The town centre offers a variety of special shops as well as larger chain stores. Modekwartier Arnhem (Arnhem Fashion District) is home to a number of designers, ateliers and boutiques showcasing unique samples and special designs.
Top attractions
A visit to Arnhem can easily be combined with a visit to one of its many top attractions. Burgers' Zoo is a new type of zoological garden. Can we invite you to join us on an adventurous expedition? Burgers' Zoo takes you on a journey around the world through a wide range of wildlife areas! 'Forms of realism' is the thread connecting all collections at the Museum voor Moderne Kunst Arnhem (museum of modern art). The Nederlands Openluchtmueum (open-air museum) cherishes traditions and honours them, showing visitors this country's distant and not so distant past. Explore the Nationale Park De Hoge Veluwe by free white bike and look at the world-famous Van Goghs at the Kröller-Müller Museum. Water is the first necessity of life. Without water life would be impossible... as you will discover at the Nederlands Watermuseum, an interactive, subterranean "hands-on" museum for all age groups.
History
All historical accounts of Arnhem are connected by the second World War. The Battle for Arnhem, which took place on the banks of the Rhine in September 1944, was part of Operation Market Garden. Owing to a range of complications, the conquest of the bridge near Arnhem was unsuccessful. Arnhem proved to be a 'bridge too far'. A visit to one of the museums highlighting this major episode during World War II is almost a must. The Informatiecentrum Slag om Arnhem near the John Frost Bridge exhibits photos and personal accounts of civilians and troops who lived and fought in Arnhem in September 1944. Or visit Airborne Museum 'Hartenstein' in nearby Oosterbeek. In the Airborne Experience you will imagine yourself to be in the heart of the Battle for Arnhem.
Our recommendations for more Holland information
Vibrant festivals, royal art, canal tours and picnics: enjoy the summer in Holland!

Read More

Undoubtedly one of the jewels of Europe, and not just because of the stunning 17th century canals. Go find out for yourself!

Read More

Hotels in special locations, luxurious or low-budget. Book your hotel room at attractive rates here.


Read More

Holland is the ultimate destination for cycling thanks to its flat landscape, mild climate, short distances and wonderful infrastructure.

Read More
What's nearby
Show on map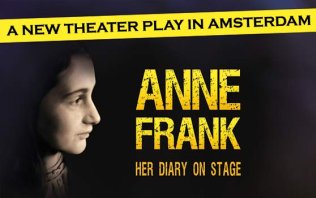 See ANNE in Theater Amsterdam! A unique play, translated into 8 languages, about the life of Anne Frank.
Read More